Kendall Jenner heals rift with mum Kris Jenner's long-term boyfriend Corey Gamble – THREE YEARS after their row!
After the pair got into a furious spat in 2020, Kendall Jenner has said she is finally working on fixing her feud with her mum Kris Jenner's long-term businessman boyfriend Corey Gamble.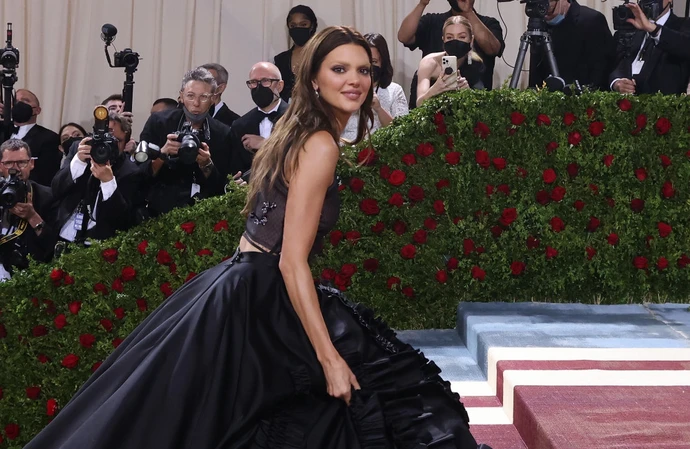 Kendall Jenner is healing her rift with mum Kris Jenner's long-term boyfriend Corey Gamble.
The reality TV star, 27, and Corey have been at odds since 2020 after the family took a trip to Palm Springs and the 42-year-old tried to intervene during an explosive bust-up between Kendall and her 26-year-old sister Kylie.
During the season four premiere of 'The Kardashians' on Thursday (28.09.23), Kendall opened up about how a new family holiday to Cabo has given her and talent manager Corey – who has been dating Kris, 67, since 2014 – time to "slow down" and finally tackle their rift.
In a confessional, Kendall said: "Corey and I, we were close for a while and then Kylie and I had a big sister fight and he tried to intervene and that caused a little problem between us.
"We apologised and we got over it but it never really – it just kind of stayed here."
She added about the break in Cabo, which most of the Kardashian-Jenner clan joined aside from 44-year-old Kourtney Kardashian: "I think sometimes that's what makes these family trips really important. It gives Corey and I the opportunity to slow down and actually spend some together."
During the 2020 fight, Kendall accused Corey of jumping in to scream and curse at her and a follow-up chat saw the businessman brand her "rude" and an "a******".
Kendall and Kylie's fight erupted when Kylie refused to drop off Kendall at her house in Beverly Hills after a night out in Palm Springs.
Kendall, who was in a car with her sister and Corey, said Kylie hit her and put her heel "into my neck" – leading to a "full fight".
Kris said in the new 'Kardashians' episode about Kendall finally addressing her and Corey's fight: "I think hell froze over because Corey and Kendall are chatting."
Kim Kardashian, 42, added: "They haven't talked since Palm Springs."
The season premiere, which aired on Hulu, also saw Kim and Kourtney Kardashian, 44, get into another nasty fight as their feud over Dolce and Gabbana drags on.
Kourtney branded her sister Kim a "f****** witch" and "narcissist" during their furious row, with the sisters seen arguing over the phone about Kim's collaboration with the designer six months after the fashion house produced Kourtney's dress for her May 2022 wedding to 47-year-old musician Travis Barker.
Kim told Kourtney: "It's not that original. Everyone does '90s, it's not a new concept."
Kourtney ended the row by snarling: "It's like you're just a f****** witch and I hate you."