Robbie Williams reveals embarrassing incident live on stage: 'I was in a precarious position...'
Robbie Williams once soiled himself on stage but carried on like the "professional" he is.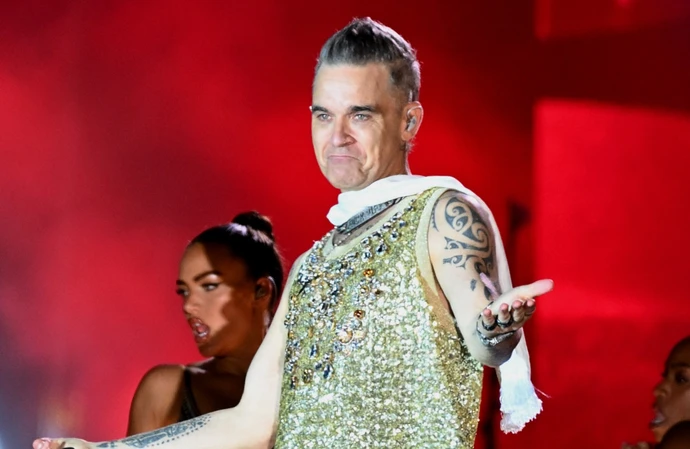 Robbie Williams once soiled himself on stage.
The 49-year-old pop star joined his old bandmates Gary Barlow, Jason Orange, Mark Owen, and Howard Donald as part of a Take That reunion tour but he fell victim to food poisoning and desperately needed to use the bathroom as he went to the stage to perform his opening number.
He wrote on Instagram: "So, I had food poisoning once on the Take That tour when I rejoined. It was horrendous. It felt like death. "We unfortunately had to cancel a show in Denmark because of it. I still feel bad. Anyway, a few days later we were playing at the Ajax Stadium in Amsterdam. Still not anywhere near well enough, I ventured to the stage. I was in the precarious position of not being able to 'trust a fart', which was unfortunate because that's what I needed to do during my opening song, 'Let Me Entertain You'."
The 'Rock' DJ' hitmaker went on to clarify to his followers that indeed the incident developed into "more" than just flatulence but he remained "ever the professional" and carried on with the performance despite his soiled pants.
He said: "As I'm sure you can imagine, it didn't remain just a fart. But ever the pro, I retained my composure and committed to the performance!"
Robbie recently revealed that he is "teetering on anxiety and darkness" as he approaches his milestone birthday.
According to The Sun newspaper's Bizarre column, he said: "I've got my 50th coming up. Maybe there is a different way to be and do things.
"That gives me an idea for a TV show … 'Robbie Williams Does Things Differently' and I just give those things a go. I am constantly teetering on anxiety and darkness.
"It doesn't take much to set me off so I desperately need eight hours of sleep and if I don't get eight hours I'm not much use to anybody – no more so than myself."