'It was so romantic!' DWTS pro Derek Hough has married Hayley Erbert
'Dancing with the Stars' pro Derek Hough has married Hayley Erber, almost a decade after they met on his dancing tour.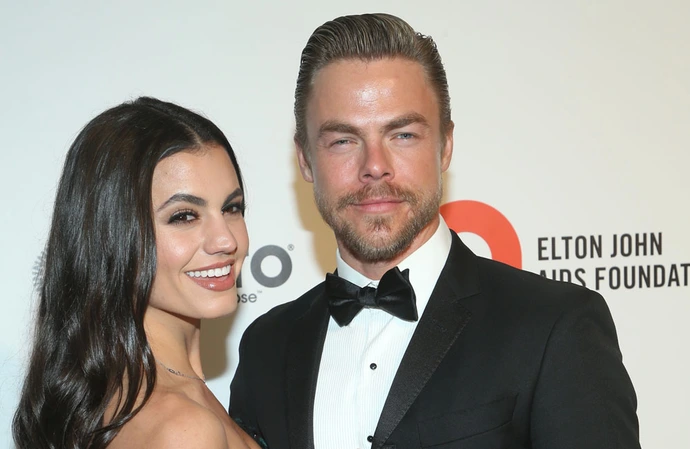 Derek Hough has married Hayley Erbert.
The 38-year-old dancer - who is best known as a professional on 'Dancing with the Stars' - got engaged to Hayley, 28, in June 2022 and now the pair have tied the knot, choosing to say their vows amongst a host of his co-stars at an outdoor location in Northern California.
He told People: "When we were thinking about location we asked ourselves, 'What's important to us? Nature was the first thing. We want to be around trees and plants and Northern California kind of spoke out to us. We just want people to experience this place that we love, this nature, but also, it just feels incredibly romantic."
The newlyweds had their first dance to Forrest Blakk song 'Fall Into Me' and despite being a professional dancer, Derek - who met Hayley in 2014 when she was hired to work with him and his sister Julianne Hough on the 'Move Live Tour' - explained why he wanted to keep things simple on the big day even though others may have been expecting something bigger.
He said: "It's so beautiful, but I'll say this. I think everybody's expecting us to do a performance and a dance whole thing. But that's the thing, if we perform, we go on stage, we dance, we do things. So for us, it feels more special for us to not perform. To be on the floor with each other, to listen to music, and just be in the moment."
Derek previously explained that he wasn't keen on the idea of doing a first dance at all because he wanted to be "in the moment" on the day.
He told 'Entertainment Tonight': "I kind of wish we didn't need to do a first dance. Because I just want to, like, be in the moment. We will have a first dance. But I want to try to make it feel not like a performance. I want it to be a [real] first dance, you know what I mean?"