'Does it say F*** Brad?!' Angelina Jolie sparks rumours she's used new mystery finger tattoos to 'flip a couple of birds' to her ex
Angelina Jolie has added to her multiple inkings by having mystery tattoos on both her middle fingers – prompting fans to speculate it features abuse at her ex-husband Brad Pitt amid their ongoing custody and winery battles.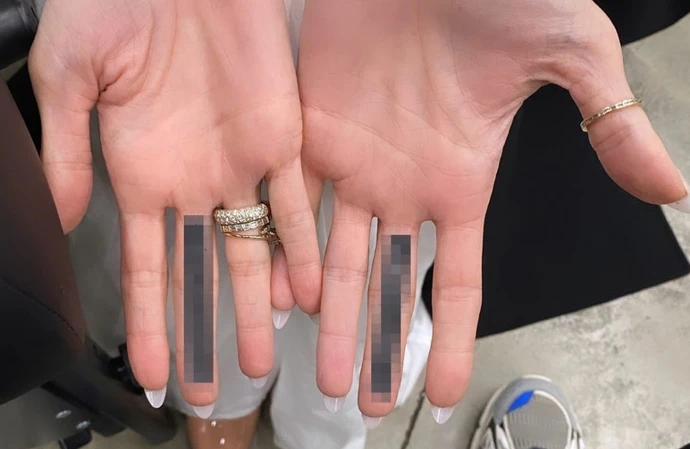 Angelina Jolie has had mystery tattoos on both her middle fingers – prompting fans to speculate it is a "f*** you" to her ex Brad Pitt.
The 'Maleficent' actress, 48, got the inkings from tattooist Mr K, who works at celebrity tattoo hotpot Bang Bang in New York City, and shared a photo on his Instagram of her designs on the inside of her digits, but with her latest designs obscured by sets of pixels.
His secrecy has sparked a flood of comments from fans speculating she probably has "f***" and "you" written on her fingers.
Another said it could say "f***" and "Brad" and had been designed so she could "give two birds" to her 'Fight Club' actor former husband, 59, who she started dating in 2005 before marrying in 2014 and divorcing two years later.
Other fans have speculated it is a pair of tributes to Angelina and Brad's six kids.
Mr. K tagged Angelina in his post showing she's added to her multiple tattoos and captioned it: "Still can't believe that I actually grabbed her hand and tattooed her. Guess what she got on her palm?"
Angelina and Brad are still embroiled in a bitter spat over their children and the winery in France they used to co-own.
Mr. K is also the tattoo artist behind Doja Cat's controversial backpiece, which fans have called "demonic", and has inked Miley Cyrus.
Angelina has many other inkings, including designs that pay tribute to her charity efforts and children.
She also has multiple designs dedicated to ex-lovers, including once famously dedicated to her previous husband Billy-Bob Thornton, 68.
Angelina later vowed never to get another man's name inked on her body after she had his name removed from her arm in the wake of their divorce.
She replaced it with the geographical co-ordinates of the locations where her children first entered her life.
The actress and Brad also got matching ink – coordinating Buddhist designs drawn from the same ink to symbolise their bond – just before they split in 2016.
Brad also has an 'A' inked along with the initials of their children on his forearm, and Angelina's birthday is tattooed on his lower abdomen, along with doodles done by Angelina.
They also both have a quote by poet Rumi that says: "There exists a field, beyond all notions of right and wrong. I will meet you there."