'I love public transport!' Delta Goodrem explains why she was on the Tube in racy latex outfit
Delta Goodrem admits she is a "big fan" of going on public transport, just days after she was spotted taking the Tube in an extravagant costume.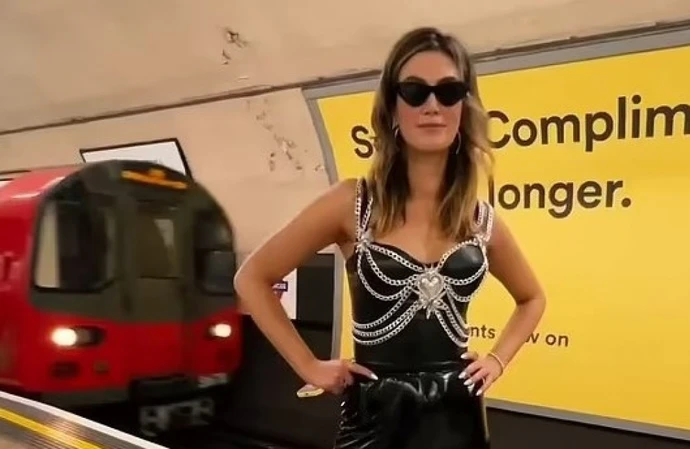 Delta Goodrem is a "big fan" of public transport.
The 38-year-old Aussie pop star was spotted on the London Underground last week wearing a racy latex outfit and explained that it was all because she had mistakenly thought she was getting a taxi after a music video shoot but joked that she "blended in" because heavy metal rockers Iron Maiden were playing in the city that day.
Speaking on UK TV show 'This Morning', she said: "I love the tube, I'm a big fan of getting the public transport and [being] on the Tube. It gets you everywhere so quick! This day wasn't ideal, we had to shoot the music video and I didn't change my clothes because I thought we were jumping in a taxi! There was actually an Iron Maiden concert that day so I sort of blended in."
The former 'Neighbours' actress initially shared footage of herself running through Charing Cross in her costume onto Instagram, where she admitted she was unsure if the attire was "appropriate" for public transport.
Meanwhile, the 'Back To Your Heart' songstress is currently on tour across the UK and explained that she likes the audience to go on a "journey" with her as she plays earlier hits such as 'Innocent Eyes' along with her newer tracks.
She added: "First time playing Shepherd's Bush next weekend. I don't think I'll catch the Tube to that one! It really is just giving back the love that everyone has held in their heart and giving back so much love. I want it to be songs that everybody has sung along to all these years, songs that everybody knows.
"I'll play 'Back to Your Heart' and just have a fantastic night. There's really no other intention but just for us to go there and have a journey, from the start to the end. After all these years, it's been 20 years since my first record and we play all the songs. And, the night can also be spontaneous. If you want another song in the middle of it, sure!"