Donald Trump abruptly axes press conference where he planned to unveil report that would 'exonerate' him in 2020 election case
After it was announced he could face trail in March 2024 over his alleged attempts to overturn the 2020 US presidential election, Donald Trump abruptly cancelled a planned press conference at which he bragged he was going to unveil a report that would "exonerate" him in his latest criminal case.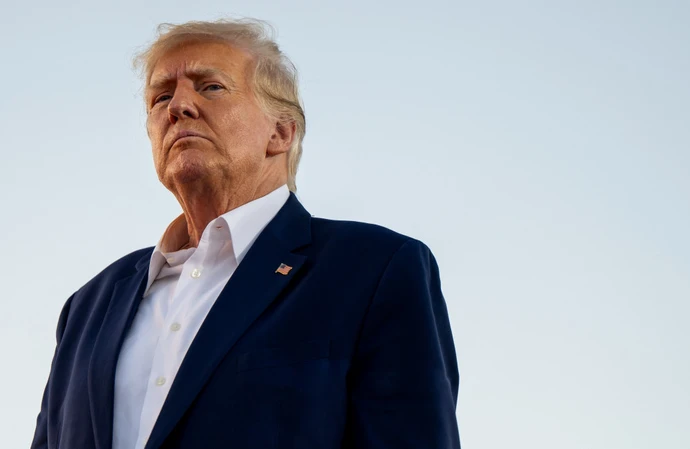 Donald Trump abruptly cancelled a Press conference at which he bragged he was going to unveil a report that would "exonerate" him in his latest criminal case.
The former US president, 77, could face trial on 4 March 2024 over his alleged attempts to overturn the 2020 election in Georgia, and in a post on his Truth Social platform late on Thursday (17.08.23) night, the ex-'Apprentice' judge claimed rather than releasing the document on Monday (21.08.23) as he'd proposed, "my lawyers would prefer putting this, I believe, Irrefutable and Overwhelming evidence of Election Fraud and Irregularities in formal Legal Filings".
Also on Thursday night, the former president also appeared at a Nashville fundraiser, with a surprise on stage appearance by Kid Rock.
Fulton County District Attorney Fani Willis has proposed 4 March next year for her case against the former president and his associates to proceed.
Her ideal date is a day before Super Tuesday, when more than a dozen primaries will be held in the nomination contest for president.
A filing in the Superior Court of Fulton County for the state of Georgia shows the DA's office will have the arraignment for Trump and his 18 co-defendants on 5 September 2023.
It stated: "In light of Defendant Donald John Trump's other criminal and civil matters pending in the courts of our sister sovereigns the State of Georgia proposes certain deadlines that do not conflict with these other courts' already-scheduled hearings and trial dates.
"Further, the proposed dates are requested so as to allow the Defendants' needs to review discovery and prepare for trial but also to protect the State of Georgia's and the public's interest in a prompt resolution of the charges for which the Defendants have been indicted."
Trump and 18 of his allies were indicted by a grand jury in Fulton County, which is accusing them of participating in a criminal enterprise in an attempt to overturn the 2020 presidential election results in Georgia.
The former 'Apprentice' judge faces 13 criminal counts, and he and every other defendant faces a charge of Georgia's Racketeer Influenced and Corrupt Organizations law.
Trump also faces charges on conspiracy to impersonate a public officer and two counts of conspiracy to commit forgery.
Among the other charges he's facing are two counts of conspiracy to make false statements under oath, two of conspiracy to file false documents, two of solicitation of a public officer and filing false documents.
He's facing a further two charges of conspiracy to solicit false statements and making false statements.
Also indicted in the case are former New York City mayor and Trump's lawyer Rudy Giuliani and his ex-attorney John Eastman.
Former White House chief of staff Mark Meadows, attorney Kenneth Cheesbro, ex-Justice Department official Jeffrey Clark, lawyers Ray Smith and Robert Cheeley, as well as Trump campaign official Mike Roman have also been indicted, among others.
Trump has denied his involvement in the events of 6 January that saw his supporters storm the Capitol Building in Washington D.C., leaving five people dead and others injured and said he's at the centre of a "witch-hunt"-style "persecution".