Tori Spelling tells fans she's been on 'crazy journey' at birthday celebration
After moving her kids into a motorhome, Tori Spelling has admitted she's been on a "crazy journey".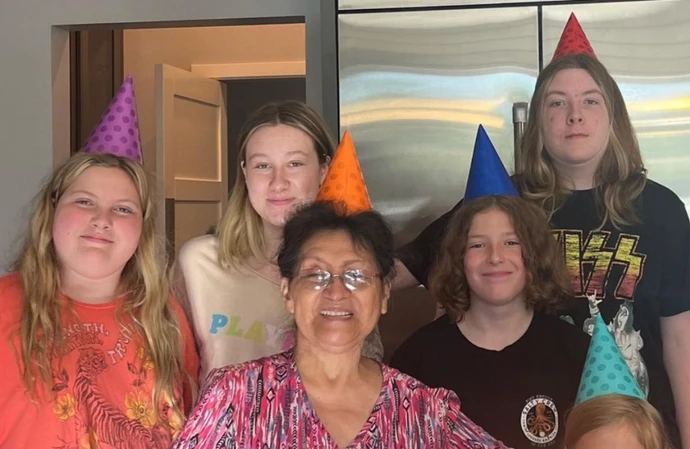 Tori Spelling has admitted she has been on a "crazy journey" as she celebrated a birthday with her kids.
The 50-year-old 'Beverly Hills, 90210' actress – who has children Liam, 16, Stella, 15, Hattie, 11, Finn, 10, and Beau, six, with her rumoured estranged husband Dean McDermott, 56 – has been living in a motorhome with her brood since the start of August.
She gushed over the adventures she has had as she took a break from the RV with her children to celebrate a birthday.
Tori shared a series of photos with her kids' "abuela" (grandmum) Isabel Carnero, who has been in Tori's life since she was 13 years old.
She captioned her carousel of snaps: "Happy 79 years young to spirit animal, mama, fur baby nana, my kiddo's abuela."
Referring to her boy Beau she added: "We've been on this crazy journey together every step of the way! Isabel is Beau's favourite human.
"He runs to her when she arrives. They play and chat for hours. It's so beautiful to see the unconditional love she has for me and my family. We love you with all outs. Hearts! Xoxo."
The post featured images of Tori's kids smiling in a kitchen wearing party hats.
The group also posed for a selfie with their mom, before celebrating Isabel's birthday with a strawberry-topped cake.
It comes after Tori told fans says she's making "priceless memories" with her children at their motorhome.
She took to Instagram on 10 August to share a glimpse inside the home along with a carousel of images of her and her kids enjoying their new spot, which she captioned: "As long as we have each other… #summer2023 #familytime #pricelessmemories #ontheroad #backtoschool."
One of the snaps showed Stella and Finn standing on top of the RV with their hands in the air, while another showed Tori cuddling one of her brood.
The post is Tori's first since it was reported in July she was staying at a $100-per-night motel, with the actress blaming the move on an "extreme" mould infestation at her Los Angeles rental home.
It has been reported Tori could have lived in a Bel-Air mansion before moving her family into the motel and motorhome.
Page Six said Bravo's 'Million Dollar Listing' realtor Josh Flagg, 37, offered her his $9 million home before she made the choice to move out.
The outlet said a source claimed Tori lived at the pad for six days before she moved in the motel.
An insider said: "(At the time) she seemed surprisingly in good spirits.
"Josh offered his home to her (temporarily) while he was traveling in Europe."
Josh has not commented on the report, but Page Six said he and Tori are "like brother and sister".
An insider told Entertainment Tonight about Tori's move to the motel and RV: "The mould situation (at her house) is real, but it has been difficult for her to find a place to stay during it because her financial situation is not great."