Billie Eilish stuns fans by showing off diamond teeth grills: 'Wtf has she done?!'
After sharing her tattoos with fans, Billie Eilish has stunned her followers by showing off diamond grills on her teeth.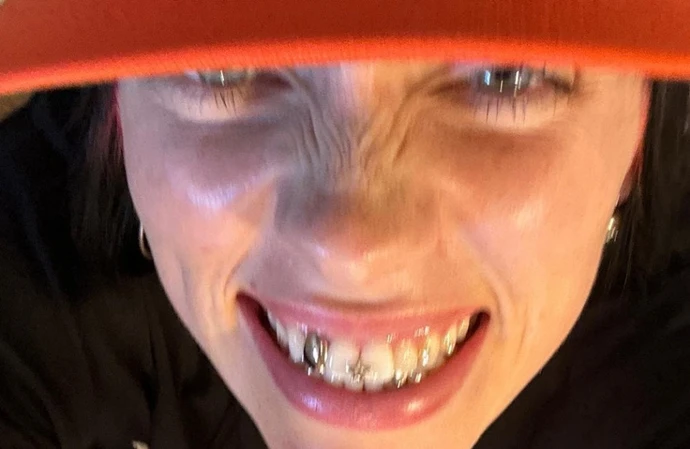 Billie Eilish has stunned fans by showing off diamond grills on her teeth.
The 'Bad Guy' singer, 21, who also has a string of tattoos, showed off the bling in a photo of her grimacing on Instagram, which she captioned: "This ain't that."
It was part of a carousel of images that also included snaps of the star smiling at the camera as her teeth dazzled in a dark car, while another close-up shot showed off her diamond-studded front tooth and another silver-capped gnasher.
She also shared a top view of her head that shows off her new red roots, along
Shocked fans' comments ranged from "Wtf did she do to her teeth?" while another said online: "I know it looks dumb as hell."
Another Instagram user accused her of "appropriating black culture", while other fans defended her, with one declaring: She can do what she wants."
One said: "She looks like an old man with her new tooth but I still love her."
Billie has also showed off her changing hair colour in recent days online, as she went blonde for the 'What Was I Made For?' video on the 'Barbie' soundtrack before revealing her latest black-and-red hairdo.
Billie has repeatedly hit back at trolls for shaming her over everything from her weight to her clothes.
Earlier this year she showed off on her Instagram her chest tattoo even though she had vowed her fans wouldn't "ever see" the inking.
She posted a video on Instagram showing her gyrating as she held onto the arms of a desk chair while revealing the tip of a dragon design and wearing a T-shirt featuring an angel from Raphael's Sistine Chapel painting.
Billie has several other tatts including "some fairies that are from a book that I had growing up – a little fairy book called 'Fairyopolis'" on her hand and wrist.
She has said she has three tattoos including a design on her chest "that says 'Eilish.'"
Despite her new tattoo reveal, Billie has said she valued her privacy.
The singer declared in a 2019 campaign video for Calvin Klein: "I never want the world to know everything about me. I mean, that's why I wear big baggy clothes.
"Nobody can have an opinion because they haven't seen what's underneath, you know?
"Nobody can be like, 'Oh she's slim-thick, she's not slim-thick, she got a flat ass, she got a fat ass.' Nobody can say any of that because they don't know."
In 2021, Rolling Stone reported the singer had her last name inked "in an ornate, gothic font" the day after the 2020 Grammys, where she won five awards including Album of the Year, Song of the Year, Record of the Year and Best New Artist.
She told Vanity Fair in a video interview about the inking: "I have one here that says 'Eilish.' Yes, I love myself'"