Ed Sheeran puts in a shift at LEGO store
Pop star Ed Sheeran put in a shift at a LEGO store in Minnesota ahead of his gig in Minneapolis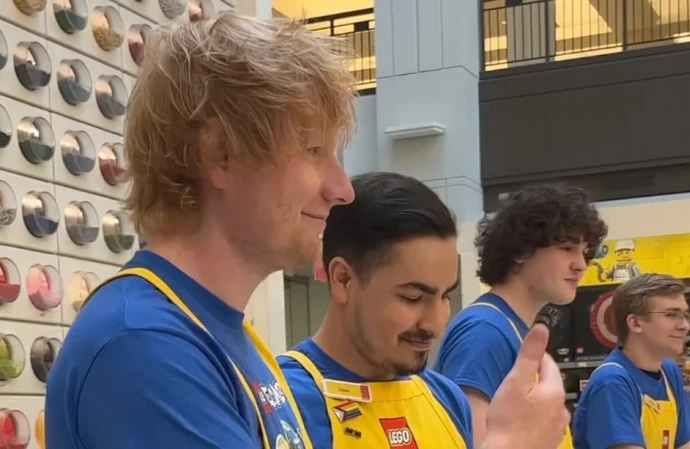 Ed Sheeran put in a shift at a LEGo store in Minnesota over the weekend (12-13.08.23).
The pop star was in town ahead of his gig at the U.S. Bank Stadium in Minneapolis on Saturday night (12.08.23) so he spent the day working as a "brick specialist" at a shop in the city's Mall of America and was seen wearing the uniform of a blue T-shirt and yellow apron complete with a name badge.
In a clip posted on Instagram, Ed explained: "Right, I'm here at the Mall of America in Minnesota and I have my LEGO outfit on. I'm going to be a brick specialist at the Lego store and play [his song] 'Lego House'."
During his shift, Ed helped young customers shop for LEGO, joined in building some toys and even handed out some boxed sets as well as signing autographs and posing for pictures.
After finishing up there, he went out into the mall to perform acoustic rendition of his song 'Lego House' for thrilled shoppers.
Speaking afterwards, Ed said: "That was super fun. I've got a bunch of these 'Autumn Is Coming' minifigures and I'm going to be giving them out at the gig. See you in a bit."
Ed has been popping up in unusual places during his tour of the US and was previously seen serving customers from behind the counter at the The Wieners Circle hotdog stand in Chicago, Illinois.
His shift at the eaterie - which is infamous for handing out insults to customers along with their orders - came before his big gig at Chicago's Soldier Field stadium and Ed was delighted to be given the chance to work there for a day.
In a clip posted on Instagram, Ed smiled as he handed out hotdogs, while other servers could be heard insulting the patrons. He captioned his post: "Served hot dogs at @wienerscircle today. This place is legendary is Chicago for serving hot dogs and insulting their customers. I loved it. See you at the stadium tonight x (sic)"
However, The Wieners Circle complained their "newest trainee" has a "lot to learn".- because he is too "friendly".