Madonna vows her postponed tour will be back on track 'very soon': 'All dressed up and nowhere to go!'
As she posed for a series of images showing her dressed in corsets and bling that she posted on Instagram, Madonna told fans her postponed tour will be back on track "very soon".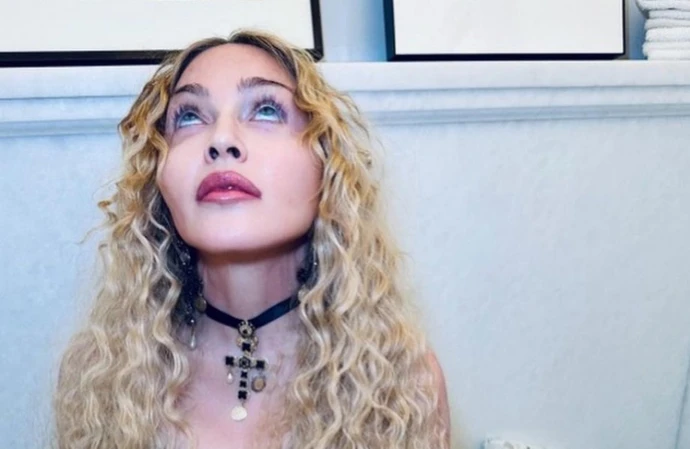 Madonna has vowed her postponed tour will be back on track "very soon".
The Queen of Pop, 64, has been resting at her New York home after she was hospitalised on 24 June with a "serious bacterial infection" – sparking the cancellation of her 'Celebration Tour' – and on Wednesday (09.08.23) posed for fans in a series of photos posted on Instagram showing her dressed in corsets and draped in bling as she told fans of her plans to get back on the road.
She captioned the carousel of images: "All dressed up and Nowhere to go… (red high heel emoji.) But Soon, Very Soon, I'll be traveling to you. #celebrationtour."
One image showed Madonna sitting in her bathroom wearing a corset teamed with a chocker with a cross dangling from it.
In another image she is covering her face with a black lace veil in a third snapshot, clutching the handle of a black bag and pairing another corset with what appears to be a pair of black satin Balenciaga boxer shorts that are estimated to have cost $775.
Another image shows a top emblazoned with 'Material Girl' in sequins, and she gave fans a close-up of her rings in another image, with one of them a huge sparkling diamond skull and another a chunky 'M' initial.
Another of her rings bore the letter 'E', in an apparent reference to her 10-year-old daughter Estere.
Fans flooded the comments section of her post with well-wishes, while many speculated she was giving them a glimpse of her tour outfits.
The post comes after Madonna told fans on Instagram just after the one-month anniversary of her hospitalisation she feels "lucky to be alive".
She said in an Instagram post on 30 July of three photos including one of her holding a present from her manager Guy Oseary of a framed polaroid taken by Andy Warhol of artist Keith Haring: "Love from family and friends is the best Medicine. One month out of the hospital and I can reflect.
"As a Mother you can really get caught up In the needs Of your children and the seemingly endless giving……….. But when the chips were down my children really showed up for me. I saw a side to them I had never seen before. It made all the difference.
"So did the love and support from my friends. If you zoom into this Picture I am holding You will see A Polaroid taken by Andy Warhol of Keith Haring wearing a jacket with Michael Jackson's face painted on it. A perfect triangle of Brilliance.
"Artist who touched so many lives including my own.
"I sobbed when I opened this gift because I realized how lucky I am to be alive. And how fortunate I am to have known these people and so many others who are also gone.
"Thank you @guyoseary for this gift! And Thank you to all my angels who protected me and let me Stay to finish doing my work! (red heart emoji.)"