Legendary British soap actress Julie Goodyear diagnosed with dementia
'Coronation Street' star Julie Goodyear is living with dementia her husband Scott Brand has revealed in a statement.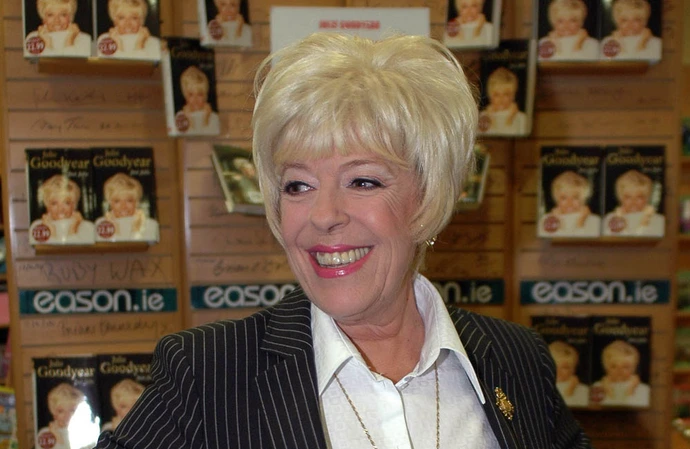 'Coronation Street' legend Julie Goodyear has been diagnosed with dementia.
The 81-year-old actress' husband Scott Brand has revealed that his "darling wife" is living with the brain condition which causes a decline in a sufferer's cognitive abilities.
In a statement, Scott said: "My darling wife and I have had to come to terms with this heart-breaking diagnosis. Unfortunately, Julie has been suffering forgetfulness for some time and we have been seeking medical advice and assistance, but we now know that there is no hope of a reversal in the situation – and that her condition will get progressively, and perhaps speedily, worse."
Scott and Julie took the decision to go public with her diagnosis so that any fans who meet her when she is out will understand if she seems "confused".
He added: "We have taken the decision to publicly announce the diagnosis as Julie still loves visiting friends and eating out. Inevitably she is recognised, and fans love to meet her - and she them - but she can get confused particularly if she is tired. I hope people will understand."
Julie - who remains a patron of Willow Wood Hospice in Greater Manchester - became a national treasure in the UK due to her role as Rovers Return landlady Bet Lynch in 'Corrie'.
The larger-than-life star first joined the ITV soap in 1966 as barmaid Bet, but left after being advised by senior cast member Pat Phoenix - who played Elsie Tanner - to get some more acting training.
After joining Oldham's Repertory Theatre, Julie returned in 1970 and was a permanent fixture on the cobbles for 25 years until she left in 1995.
Julie made three returns as Bet, firstly in 1999 for the home video spin-off 'The Rover Returns' and then again in 2002 and in 2003 for scenes shot in Blackpool as part of a storyline focusing on Liz McDonald (Beverley Callard) and her husband Jim (Charles Lawson), who had recently escaped from prison.
Once she was done with 'Corrie' several reality TV appearances followed and Julie made a memorable appearance on 'Celebrity Big Brother' in 2012 alongside housemates that included Julian Clary, MC Harvey, Martin Kemp and Coleen Nolan.