Ben Platt engaged to fiancé Noah Galvin – again!
After Ben Platt first accepted fiancé Noah Galvin's proposal in November, the couple have got engaged again and displayed a new ring.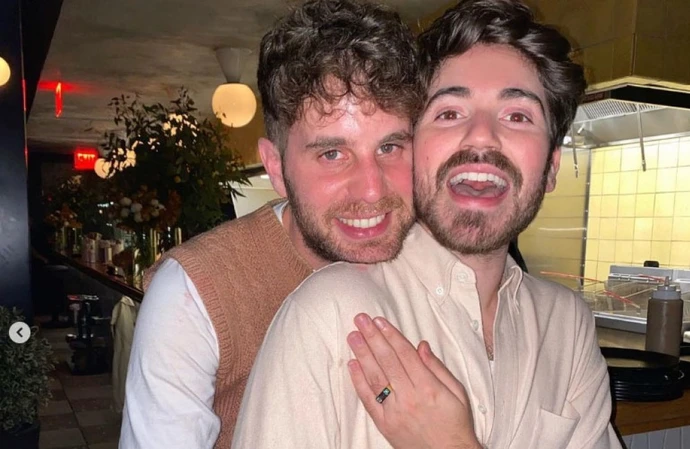 Ben Platt has got engaged to his fiancé Noah Galvin for the second time.
'The Book of Mormon' star, 29, showed off a diamond engagement ring on his Instagram Story on Monday (29.05.23) after 'The Real O'Neals' sitcom actor Noah, also 29, first proposed to him in November.
Displaying a sapphire ring that is similar to the one Ben gave Noah in 2022, he said: "He proposed back."
He also posted a photo of their dog holding a red rose in his mouth, alongside which Ben wrote: "I said yes."
Noah joked on Instagram about their dog, who Ben calls Georgie: "GEORGE DID THE ASKING."
The pair also celebrated the second engagement with a cake that said: "Gay marriage is cool."
Ben captioned a series of Instagram snaps in November initially announcing their engagement, which happened at a restaurant in Williamsburg, Brooklyn: "He agreed to hang out forever."
Noah added on his Instagram: "I said yeehaw and then cried for like 7 hours."
In one image, the couple were surrounded by a floral display adorned with candles.
The pair have each played the lead role in the Broadway show 'Dear Evan Hansen', and after Ben stepped down from the part, Noah took over – sparking a friendship that lasted years before they became boyfriends during the Covid pandemic.
Ben told Kelly Clarkson in an interview: "We were friends for five years, and right before the pandemic, we finally decided to really give it a shot.
"We kind of skated around it for a long time."
The actor added in a chat with Out magazine he had finally found a partner "that I really love".
He said: "(Noah) has a really unique ability to help me to… be present where I am and to make the life that's happening day to day too wonderful to not want to be on the ground for it."