Kelly Ripa declares husband Mark Consuelos will be her TV co-host 'until one of us dies'
After trolling from viewers over their presenting style, Kelly Ripa has declared her husband will be her television co-host "until one of us dies".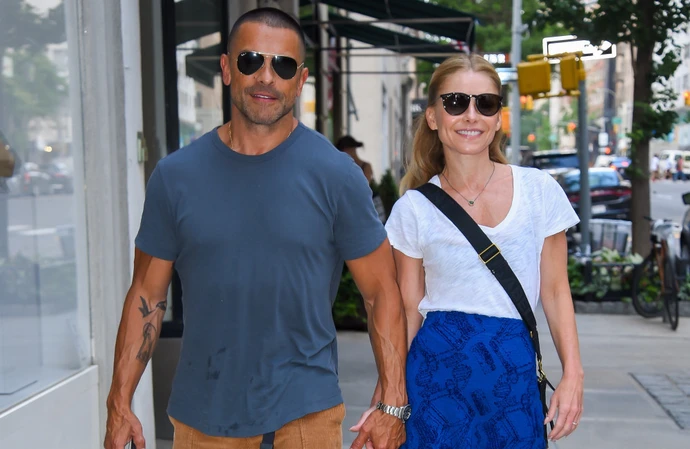 Kelly Ripa says her husband will be her television co-host "until one of us dies".
The 'Live with Kelly and Mark' presenter made the declaration amid reports she and her fellow presenter Mark Consuelos are finding trolling about their show "irritating".
A production source told Page Six: "Kelly's been through this before – with every new co-host!
"If it wasn't Mark – say it was (Kelly and) Andy Cohen – it would be the same exact story.
"Joel McHale (a temporary co-host) once had to carry Kelly upside down for an obstacle race and her head was at his rear end and her arms were wrapped around his waist – can you imagine the faux outrage if Mark had to do that?"
The comments came after Mark, 52, admited 'Live with Kelly and Mark' has gone "off the rails".
The 'All my Children' actor started helming the show with his wife Kelly, also 52, last week after Ryan Seacrest, 48, stepped away from the co-hosting spot in February after a six-year run, and says he thinks the show is fun and "irreverent" so his strategy is to try to be in the moment while presenting.
He told SiriusXM's 'The Jess Cagle Show' with Julia Cunningham: "I can't do tomorrow's show now, I can't do yesterday's show over again.
"If it's great, great. If it's not so great, we'll try better next time. And that's been my approach. Just kind of be in the moment."
He added about the show being "irreverent": "I enjoy the first 20 minutes so much. We often have five or six different things we're gonna talk about.
"And I love the days when we get to none of those and we go off on some left turn to Albuquerque and it's just off the rails and we go back and it's not even when we talk about our shared lives together.
"Maybe when we're both kids in different worlds and talking about our experiences. That's what I love about the show."
Mark, who has children Michael, 25, Lola, 21, and Joaquin, 20, with Kelly, also said about sharing a "telepathy" with his wife about which topics are appropriate: "I think we've got a pretty good sense of what that line is. It'll probably move back and forth a little bit, you know? But we haven't had too many discussions about, 'OK, well that's off limits, right?' I think it's just kind of in our brains.
"We often have conversations with us just looking at each other, like, 'Are we gonna do this?' Or 'No, we're not doing this. Of course we're not doing this.' "So we have… we have that telepathy that married couples after 27 years kind of do."