Vanessa Hudgens knew immediately that Cole Tucker was the one
Vanessa Hudgens knew "within days" of meeting Cole Tucker that he was her future husband and she caller her sister to gush about him after their first weekend together.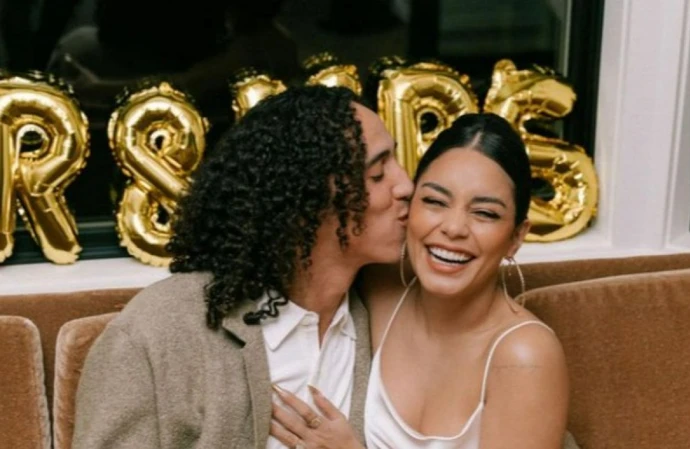 Vanessa Hudgens knew "within days" of meeting Cole Tucker that he was her future husband.
The 34-year-old actress can't wait to marry the baseball player and revealed that she has a "new sense of security" since meeting Cole.
She told the 'Today' show: "It feels amazing.
"It's so funny, I was talking about this with Cole…People are always like, 'Does it feel different? [Do] things feel different [getting engaged]?'
"That was always my question normally, but now I get to be asked it. And you know what, it actually does.
"You feel so safe. It's the best thing ever. I love being a fiancée. I knew. After our first weekend together, I called my sister and was like, 'I think I just found my future husband.'"
The couple first met during a Zoom meditation and Yoga class during the COVID-19 pandemic and Vanessa later slid into his DMs.
Meanwhile, Vanessa recently insisted she has "manifested" every successful thing in her life.
She told 'Entertainment Tonight': "I've manifested my relationship, my home, my career. There's so much. As long as you're really specific, might not always come when you expect it or want it, but it's always gonna come back in some way."
The ''Beastly' star - who lost her father Greg to cancer in 2016, just hours before she played the role of Rizzo on 'Grease Live' - is now exploring her magical side as part of new documentary 'Dead Hot: Season of the Witch'.
She went on to add that she "connects" with angels every day and finds it "empowering" to be able to keep in touch with spirituality as she explained that she was drawn to take part in the Tubi project in order to "heal ancestral trauma".
She added: "Cause they're always there with you, so I've been connecting. I always take a moment to connect to spirit, and the easiest to me is my spiritual brigade. It's just like a really empowering, grounding, protective thing to be able to do consciously. In a crazy world, I do it often. I kinda wanted to figure out who they were specifically so I can be more intimate with them, and I definitely got that.
"I mean, I've always said that the only way to heal ancestral trauma is to shine a light on it, and witchcraft has been painted as this demonic thing through film for years."