Michael J. Fox shares wife's poignant response after Parkinson's diagnosis
Michael J. Fox has revealed his wife Tracey Pollan reacted to news of his Parkinson's diagnosis by reiterating her wedding vows to him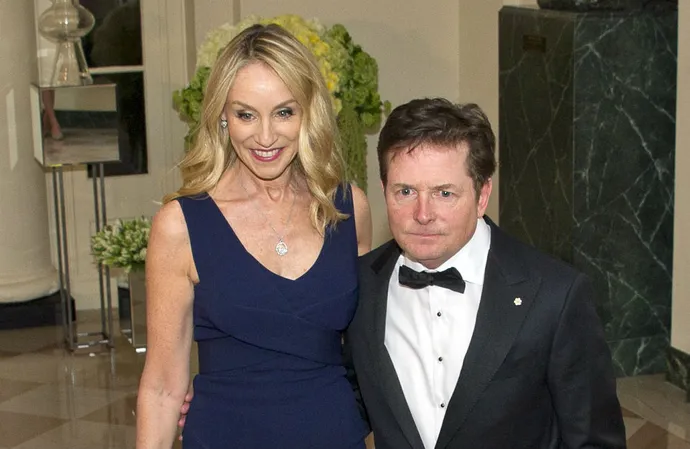 Michael J. Fox's wife Tracey Pollan reacted to news of his Parkinson's disease diagnosis by reiterating her wedding vows to him.
The 61-year-old 'Back To The Future' star was diagnosed with the progressive brain disorder back in 1991 - three years after he married 'Family Ties' actress Tracey - and went public with his diagnosis seven years later. He has now filmed a documentary called 'Still: A Michael J. Fox Movie' about his journey and in the film he revealed how his wife reacted when he first told her about his heath news.
Speaking in the Apple TV Plus project, Fox shared: "I told Tracey the news. 'In sickness and in health', I remember her whispering."
He went on to reveal he spent years hiding his condition from the outside world, but eventually he knew he had to be honest and get on with his life and career."
Michael explained: "No one outside of my family knew. There was only one reason I took these pills. To hide. But all those years of hiding was shaking me awake. To deny that part of me, that wants to continue to go on and do things is to quit ... I'm a tough son of a b****."
The 'Doc Hollywood' actor recently opened up about his work raising awareness of the condition - which is caused by the loss of nerve cells in the brain and causes symptoms including tremors and stiffness - and said he's determined to "do the best I can."
After a screening of the documentary at the south by Southwest Film Festival, Michael was asked how he "mobilised" people to care about Parkinson's and replied: "I didn't have a choice. This is it. I have to give everything I have, and it's not lip service. I show up and do the best I can. "Pity is a benign form of abuse. I can feel sorry for myself, but I don't have time for that. There is stuff to be learned from this, so let's do that and move on."