Behati Prinsloo shares first glimpse of her third child with fans
Behati Prinsloo has shared the first glimpse of her third child with husband Adam Levine among a series of images taken at the start of Maroon 5's Las Vegas residency.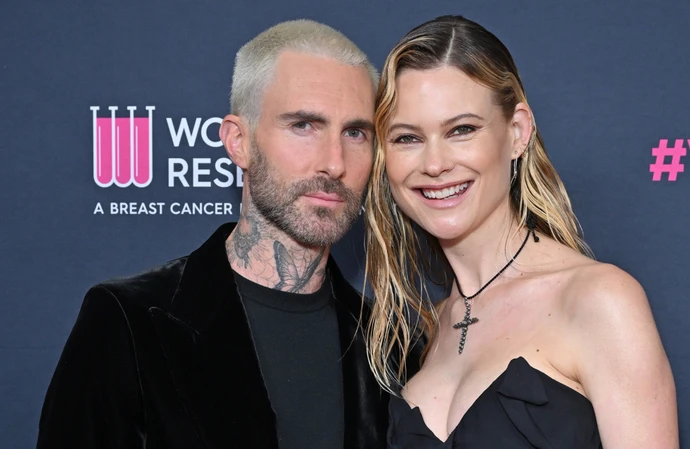 Behati Prinsloo has shared a glimpse of her third child with fans.
The ex-Victoria's Secret model, 34, had the baby with her Maroon 5 frontman husband Adam Levine, 44, two months ago, but the couple have held back on sharing the name or sex of the new arrival with the world.
But Behati – who also has daughters Dusty, six, and five-year-old Gio with Adam – showed off her new youngster's feet as part of a series of photos posted to her Instagram on Sunday. (26.03.23)
Behati captioned the series of images "Vegas week 1" in reference to her family's recent trip to support Maroon 5's M5LV residency in Sin City.
Adam, who married Behati in 2014, started the run of shows on Friday by telling fans about his family he "used to do this for myself, and now I do this for them".
He previously told People he had a "big opening night in Vegas" coming up and how his family persuaded him to take on the residency.
Adam added: "It's close to home and no one has to deal with, you know, traveling 10 hours with kids and jet lag.
"It felt right. It felt really, really sweet to have everybody here. I wouldn't have wanted to do it without them.
"I think we've kind of gotten to the point where we've almost just done it all. "We've been doing it for this crazy long amount of time, and so we thought (a Vegas residency) was kind of the logical next step because it was something that we had never embarked upon.
"Also, over the years, Vegas has become this kind of beacon for everybody... the timing of it all just makes sense to us."
The pair had their third child in January after Behati showed off her baby bump during an outing with Adam in September 2002.
Later that same month, Adam denied allegations he had cheated on his wife.
He claimed he "did not have an affair" but admitted he "crossed the line during a regrettable period in my life".
According to a TikTok posted by Sumner Stroh, the woman he had the alleged affair with, the singer had asked her if he could name his unborn third child Sumner in her honour.
Behati left Adam out of her Instagram for months after the scandal but her photo dump on Sunday marked his return to her feed as she also posted an image of them drinking tequila.
Adam has said: "I did not have an affair, nevertheless, I crossed the line during a regrettable period of my life.
"In certain instances it became inappropriate. I have addressed that and taken proactive steps to remedy this with my family."
A source told Us Weekly: "Adam has done a complete turnaround in how he handles his marriage. He basically recommitted himself 100 per cent to Behati and his family.
"They're spending more quality time together, date nights without the kids and girls only nights for Behati."