Travis Barker set for surgery to repair injured finger
Blink-182 drummer Travis Barker will undergo surgery today to repair his injured finger.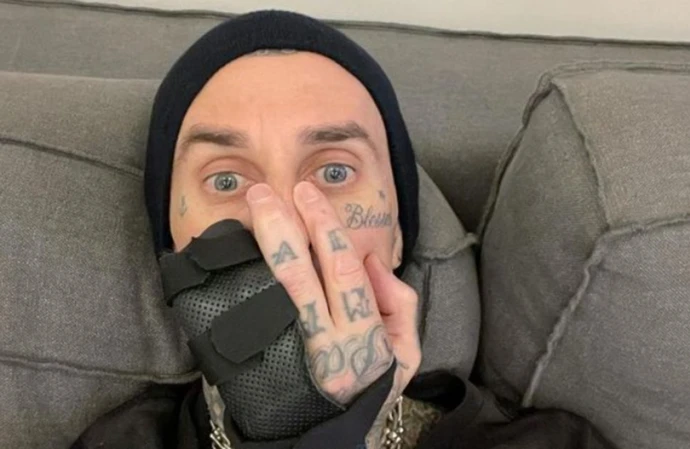 Travis Barker is set to have surgery to repair his injured finger.
The Blink-182 drummer revealed this week he's going under the knife after damaging his digit earlier this month, and the 47-year-old star gave fans a glimpse at his recovery, including physical therapy and a finger brace.
On Monday (27.02.23) night, he wrote on Instagram: "Surgery tomorrow."
His wife Kourtney Kardashian replied to the post with a series of prayer hands and heart emojis.
He injured the finger earlier this month as he was rehearsing with his band for the 'All The Small Things' rockers' upcoming reunion tour.
He previously tweeted on February 8: "I was playing the drums at rehearsals yesterday and I smashed my finger so hard I dislocated it and tore the ligaments."
No gigs have been postponed or cancelled following the injury, with fans hoping the surgery won't impact Blink-182's first tour with Tom DeLonge in the lineup - alongside Travis and their bandmate Mark Hoppus - since 2014.
Late last year, Tom revealed the group has been busy working on "the best album" they've made to date.
He teased on Instagram: "I'm personally tripping and so proud of what we have created TOGETHER. As one unified force of fun, eternal youth, and most of all- close friends."
The group are set for their biggest tour to date, with concerts in the UK, Europe, North America, Australia, New Zealand and their first-ever shows in Latin America.
The mammoth tour will begin in March and will conclude in February 2024.
The three original Blink-182 members met up before Mark was undergoing treatment for cancer in 2021 and he revealed that the three were in a good place.
He previously said of the band's relationship: "It's actually better than it used to be.
"There was no agenda (when they met up). There were no lingering grudges. It felt very back to what it should be: three friends sitting in a room."