Andrew Garfield interrupts Sally Field's SAG Awards interview for a kiss on the cheek
Andrew Garfield couldn't keep away from his co-star Sally Field after presenting her with the Lifetime Achievement Award.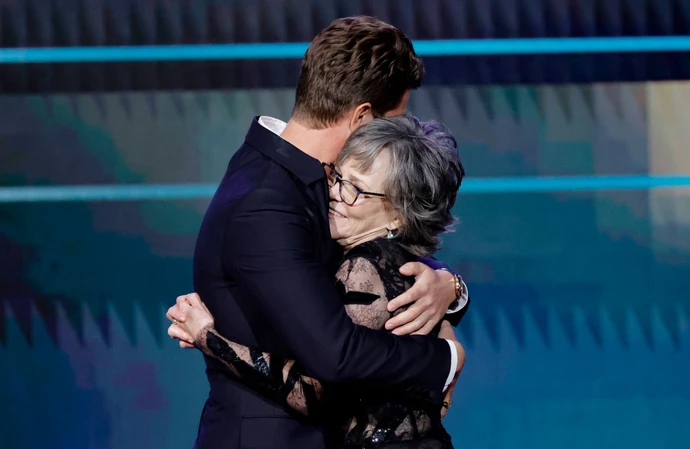 Andrew Garfield interrupted Sally Field's backstage interview at the Screen Actors Guild (SAG) Awards to give his co-star a kiss.
The 76-year-old actress was honoured with the Lifetime Achievement Award at Sunday night's (26.02.23) ceremony, and her 'Amazing Spider-Man' co-star, 39, couldn't resist giving the Hollywood legend a peck on the cheek as soon as he saw her.
He smiled during the 'Entertainment Tonight' interview: "She's my surrogate something in my life. I don't know.
Sally added: "We created, we can't - it's a relationship that just continues the minute we see each other he's like, 'Can I help you? Are you okay?'"
The screen legend had been introduced to the stage at Los Angeles' Fairmont Century Plaza hotel by Andrew, who praised her extensive body of work and social rights activism.
He said of her two Oscars, two Golden Globes, three Emmys and multiple other nominations: "She's won a lot of s***. She's won so much s***."
Andrew also praised his on-screen aunt as a "north star – for all of us".
He added: "You never drink the Kool-Aid of your brilliance.
"You never get high on your own supply. But tonight we're going to try to make you."
And in the backstage chat with Sally, Andrew went on to gush over the 'Mrs. Doubtfire' star and how much he admires her.
Asked what it meant to present the accolade to his co-star, he said: "It was honestly, an honour.
"A true, true honour. Because these moments are very rare, and to be asked by someone that I admire and hold in the highest regard, as a north star of what we do, and as a human being."
He gushed: "I meant it all."
Sally said of the award: "It felt great."
The 'Steel Magnolias' actress reflected on her lengthy career as she accepted the honour, remembering the "quiet thrill" of receiving her SAG-AFTRA card after filming her first role in 1965 ABC series 'Gidget' because she has never felt more like herself than when she was on stage or on camera.
But Sally recalled the "fight" she had to stop herself being pigeonholed as a sitcom star, though she acknowledged her battle was more "lightweight" than other actors have experienced.
She said: "Struggling to climb my way out of the box of situation comedy in the '60s and '70s took a fierceness I didn't know I had. But honestly, I was a little white girl with a pug nose born in Pasadena, California.
"And when I look around this room tonight, I know my fight, as hard as it was, was lightweight compared to some of yours."
But while the journey of an actor may not be simple, Sally noted that: "Easy is overrated."