Prince William vows to play 'significant role' in ending homelessness
Prince William pledged to play a "significant role" in ending homelessness in the UK on a visit to The Passage.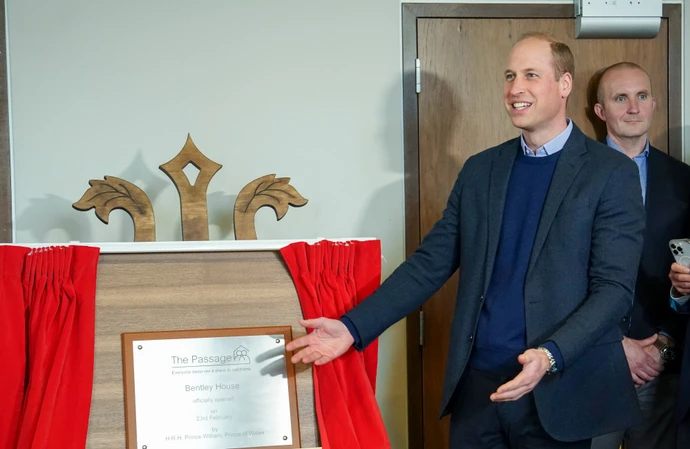 Prince William wants to play a "significant role" in ending homelessness in the UK.
The Prince of Wales paid a visit to The Passage in London on Thursday (23.02.23) to officially open the organisation's two new accommodation buildings - which includes 20 flats and 37 beds - and meet with some residents, and in his speech, the 40-year-old royal vowed to do all he can to end the "human tragedy" as he is determined sleeping on the streets will be "rare, brief, and non-recurrent".
William, who is patron of The Passage, said: He said: "Every time I come to The Passage I am always struck by the lasting impact of their work.
"The work that I have seen first-hand over many years is the reason I know that ending homelessness must be thought of as more than simply a wishful aspiration.
"Instead, it should be viewed as an achievable goal, one that working together we can and must accomplish.
"The Passage is taking an innovative approach to preventing homelessness - they are working collaboratively with others in society to tackle this challenge.
"I believe this is how we can make homelessness rare, brief, and non-recurrent.
"I am personally more determined than ever to play my part in working with others to do all we can to stop the human tragedy that is homelessness."
During the visit, William met Sister Joan, a 90-year-old nun he first met when he visited The Passage with his mother, the late Princess Diana, and brother, Prince Harry, in 1993.
The nun said: "[Diana] was beautiful, gentle. I cannot find words to describe her. She was an ordinary person with no airs and graces, who could relate to anybody."
Sister Joan reminded William - who has Princes George and Louis, nine and four, and seven-year-old Princess Charlotte with wife Catherine, Princess of Wales - he had promised to return to The Passage with his children.
She said: "He's going to bring his children one day to see us. It would be nice."
The prince had promised last summer to follow Diana's example in taking his family to visit homelessness charities to see their "inspiring" work close up.
He said: "In the years ahead, I hope to bring George, Charlotte and Louis to see the fantastic organisations doing inspiring work to support those most in need – just as my mother did for me."