Sophie Lloyd: I am not having an affair with Machine Gun Kelly!
Sophie Lloyd has insisted she is not romantically involved with Machine Gun Kelly following the accusations that they are having an affair.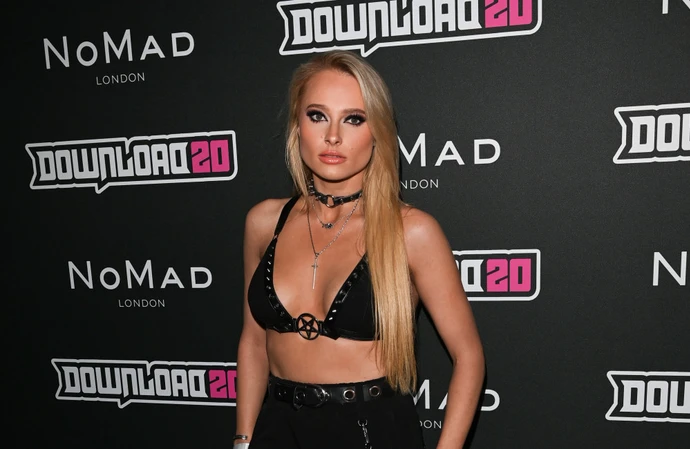 Sophie Lloyd has blasted "meritless accusations" she has been having an affair with Machine Gun Kelly.
The 26-year-old musician is a guitarist for the 'Bloody Valentine' rocker - who is set to tie the knot with actress Megan Fox - but the pair have been accused of having a relationship over the last few days and her management have now released a statement which slammed the "untrue" allegations.
In a statement given to Us Weekly magazine, Sophie's management team said: "Sophie Lloyd is a professional, accomplished musician who has been needlessly dragged into the media based off of meritless accusations made by social media. Any suggestion that she has ever acted in an unprofessional manner or stepped out of her relationship are untrue."
The news comes shortly after it was reported that the 'Jennifer's Body' actress - who was previously married to '90210' star Brian Austin Green and has Noah, 10, Bodhi, nine, and six-year-old Journey with him - had removed her engagement ring but has not yet called things off completely.
A source said: "They haven't officially called off the engagement but Megan took her ring off. They have had issues in the past, but things seem pretty serious this time."
Since the accusations were started by fans social media comment sections, Megan has acknowledged the rumours about Sophie - who is dating drummer Christopher Painter - and MGK.
In Instagram posts over the weekend, the 'Transformers' star posed in front of a mirror with a man and posted a video in which she appears to torch a letter and a bag on a bonfire.
She captioned the images and clip: "You can taste the dishonesty / It's all over your breath" – which are lyrics from Beyoncé's 2016 track 'Pray You Catch Me' about her husband Jay Z's affair.
When one fan wrote: "He probably got with Sophie", Megan replied: "Maybe I got with Sophie."