Donald Trump brands Rihanna's Super Bowl show 'worst in history'
Former US President Donald Trump has scoffed at Rihanna's performance at the Super Bowl half-time show - calling it an 'epic fail' in a sneering rant posted on social media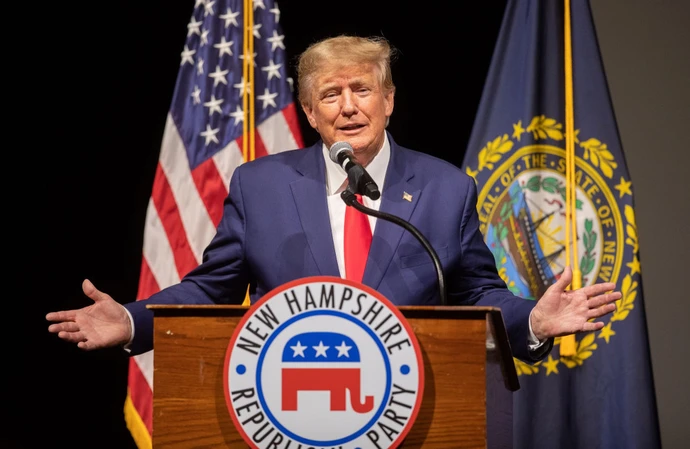 Donald Trump has branded Rihanna's Super Bowl performance the "worst half-time show in history".
The pregnant pop star returned to the stage for the first time in almost five years to provide the entertainment at the big game between the Kansas City Chiefs and the Philadelphia Eagles in Arizona on Sunday (12.02.23), but the former US President scoffed at the singer in a sneering rant on his Truth Social site - calling her performance an "epic fail".
In his post, Trump wrote: "EPIC FAIL: Rihanna gave, without question, the single worst Halftime Show in Super Bowl history.
"This after insulting far more than half of our Nation, which is already in serious DECLINE, with her foul and insulting language.
"Also, so much for her 'Stylist'!"
The reference to "foul" language and her stylist appears to be linked to a photo taken in 2020 which shows Rihanna posing in front of an old car daubed with graffiti which reads: "F*** Trump".
It comes just days after Trump previously tore into Rihanna on the social media site, writing of the nine-time Grammy Award winner: "Bad everything, and NO TALENT!"
Rihanna has previously expressed her dislike of the reality TV star-turned-politician and even requested that he stop playing her song 'Don't Stop The Music' at his rallies.
In response to a tweet about her track being played at a Trump event, the singer replied: "Not for much longer ... me nor my people would ever be at or around one of those tragic rallies, so thanks for the heads up."
She also questioned his competence in an interview with Vogue magazine. Speaking back in 2019, she said of Trump: " The most mentally ill human being in America right now seems to be the president."