Bad Bunny kicks off Grammy Awards with lively Puerto Rico tribute
Bad Bunny kicked off the 2023 Grammy Awards at the Crypto.com Arena in Los Angeles on Sunday (06.02.23) with a lively tribute to Puerto Rico.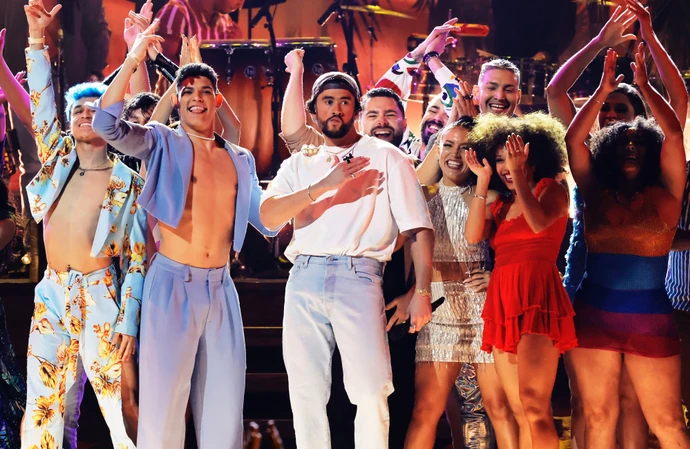 Bad Bunny kicked off the 2023 Grammy Awards on Sunday (05.02.23) with a lively tribute to Puerto Rico.
The 28-year-old singer - who has already made Grammy history after having the first Spanish-language LP to be nominated for Album of the Year for 'Un Verano Sin Ti' - moved through the audience as he began singing 'El Apagon' before seguing into 'Despues De La Playa'.
He performed alongside eight plena dancers, who showed off traditional Puerto Rican folk art, and seven plena musicians, while some of the island's beloved icons including songwriter Andy Monanez, reggaeton pioneer Tego Calderon and baseball ace Roberto Clemente were represented by cabezudos, characters with giant heads.
The Dominican band Dahian el Apechao, who composed parts of 'Despues De La Playa' performed live as 40 dancers showed off their merengue moves.
After host Trevor Noah - who had introduced Bad Bunny from the roof of a building outside the Crypto.com arena in Los Angeles - then performed his opening monologue, Brandi Carlile was the next performer to take to the stage.
The 41-year-old star was introduced by her wife and two daughters, who declared the singer would be ready to "rock the faces off" the audience, and she then launched into a rousing performance of 'Broken Horses'.
Earlier in the evening, Brandi had scooped three awards at the pre-ceremony event including Best Rock Song and Best Rock Performance for 'Broken Horses', and Best Americana Album for 'In These Silent Days'.
The stunned star said of her Best Rock Song win: "Oh my God, this is amaaaazing! Oh, I'll never be the same. My mom's out there, Teresa Carlile. Mom, I gotta thank you for telling me to stop singing so angry because I obviously ignored that like I ignored everything you ever told me to do. But I cut my hair and I learned how to scream and I just won a Grammy for a rock 'n' roll song that I wrote with all my heart."