Madonna took a 'trip down memory lane' to show off her iconic tour cone bras
Madonna took a "trip down memory lane" by delving into her wardrobe and showing off the iconic cone bras that are still in her posession.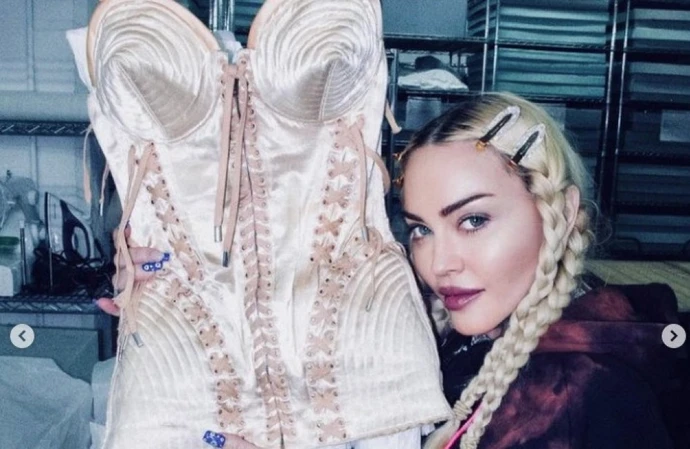 Madonna took a "trip down memory lane" to show off her iconic cone bras to her fans.
The 'Like A Prayer' hitmaker got "nostalgic" as she showed off some of the clothes she has kept from her astonishing pop career, including the eye-popping bras she used on stage.
Sharing her fashion discovery with her 18.9 million Instagram followers, she wrote: "A trip to my archives is always a nostalgic trip down memory lane! If I think about my journey through music over the last 4 decades— how could I not think about all the incredible clothes I got to wear and all the amazing designers I was lucky enough to work with!!"
One of those designers is Jean Paul Gaultier, who was the man responsible for creating the cone bra that she wore on her 'Blonde Ambition World Tour' in 1990.
Madonna - who has six children, Lourdes, 26, Rocco, 22, David, 17, Mercy, 17, and 10-year-old twins Estelle and Estere - also paid tribute to her mother Madonna Louise who she remembers making so sacrifices for her and her siblings, including going without a coat in the winter so they could be warm.
She added in her post: "When I was a little girl I remember my mother was always cold. Partly because she was sick but also because she never had a coat. "She always spent what little money we had on our coats and I remember standing outside waiting for the school bus with my mother shivering in the cold in the middle of winter!
"Years later when I became successful my mother's sister said to me, 'Now You can buy all the coats your mother couldn't buy for herself!'
"The journey from the memory of my shivering mother in winter to me shivering in the over air-conditioned storage space where all my costumes are stored is quite remarkable! I am overwhelmed with gratitude.
"Every time I put on an incredible coat I think of my Mother. I hope she likes my taste in costumes But most of all I hope she's warm! #madonnacelebrationtour"