Twister 'cannot be remade'
Twister director Jan de Bont is adamant the disaster movie cannot be remade because a new film would not feature the real stunts that were seen in the original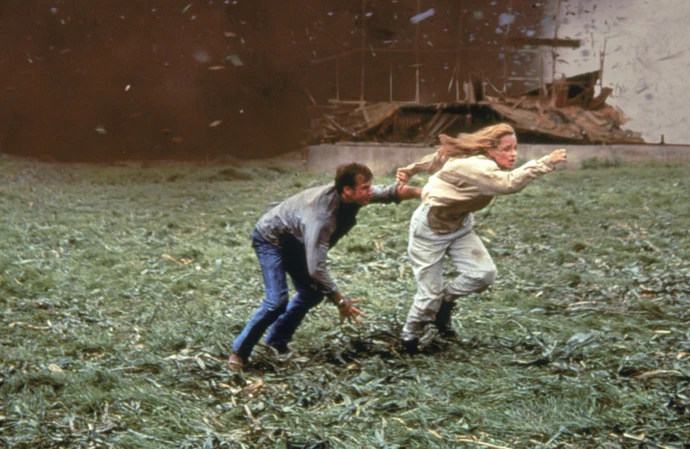 'Twister' director Jan de Bont is adamant the disaster movie "cannot be remade".
De Bont helmed the 1996 original starring Bill Paxton and Helen Hunt about a storm chasers caught up in a tornado which wreaks havoc across Oklahoma and the film is being revived for a sequel called 'Twisters' which is reportedly set after the events of the original but the moviemaker is adamant the use of CGI will make it a very different film.
He told Inverse.com: "When things fell from the sky, there were real things falling from a helicopter. If you film a car escaping a tornado in a hail storm, it was real ice that came at us. It's a movie that cannot be remade … That would never, ever happen again."
De Bont added: "Every shot was a fortune. It would take three days to transfer all that information onto film. Right now it's fast, but in the beginning, it was super slow. And we had to be so careful to get the shots done before the movie opened."
'Twisters' is being directed by 'Minari' moviemaker Lee Isaac Chung and de Bont hopes he will bring a new spin to the tornado tale, although he's adamant he won't be rushing to the cinema to see it when it's released.
He added to the publication: "I want to have somebody else see it first ... It might be a really different approach. That's the same with [Greta Gerwig] of 'Barbie'. Nobody would ever have thought she'd direct that movie and make it so successful."
'Twisters' stars Daisy Edgar-Jones, Glen Powell and Maura Tierney is due for release next summer. Reports suggest it will focus on the daughter of Paxton and Hunt's characters. Hunt had previously been co-writing a sequel but that version was rejected by the studio and is unlikely to make a cameo in 'Twisters'. Paxton died in 2017 at the age of 61.