Machine Gun Kelly wanted to be 'punk' but 'respectful'
Machine Gun Kelly wanted an extra special outfit for the Grammy Awards in honour of his first ever nomination.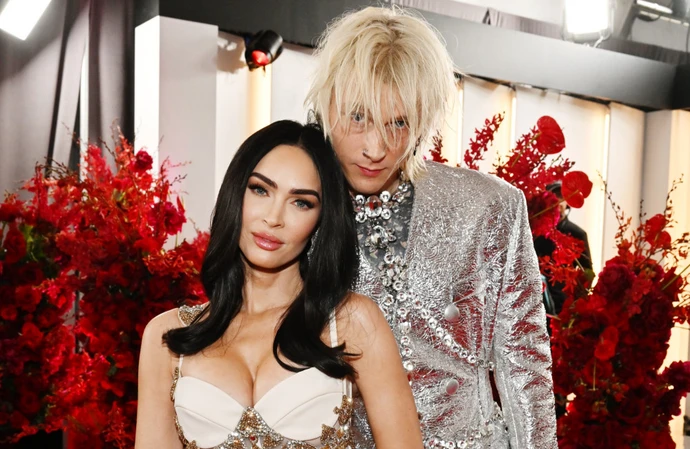 Machine Gun Kelly wanted to be "respectful to the Grammys" and "a big punk" on the red carpet for Sunday's (05.02.23) ceremony.
The 32-year-old star – whose real name is Colson Baker – was nominated for his first award, Best Rock Album for 'Mainstream Sellout' and was keen to choose an outfit that was "really special".
His stylist Adam Ballheim said: "This is the first Grammy nomination for Kells, so we wanted to make it feel really special.
"This moment was very much something he had moving around in his brain. We wanted to make sure he looked like a rock artist, but also a bit punk, while also making sure the look felt respectful to the Grammys and this moment in his career, and ultimately feeling elevated and cool."
The 'Ay!' singer opted for a silver custom Dole and Gabbana suit accented with a crystal harness for the event.
Adam told The Hollywood Reporter: "It's super reflective with a bit of a brocade pattern stitched in.
"There's no lapel, so it's a deep-V worn with no shirt, and then this beautiful crystal harness is worn on top. It's really beautiful and glam but still feels punk rock."
"The jacket has] a flare at the waist that feels a little surreal and a little playful."
Kelly opted for his favoured super skinny trousers.
His stylist laughed: "With that stiff, foil-like fabric, the pants basically stand up on their own."
The musician was joined on the red carpet by fiancée Megan Fox, who opted for a beaded white Zuhair Murad white gown and Adam explained he and the 'Jennifer's Body' actress' stylist, Maeve Reilly, swap notes on what their clients are planning to wear.
He said: "Every event is a little bit different. Sometimes we riff off of her options and vice versa. This is a huge night for Kells with his first nomination, and Megan is so supportive of that, so she'll look amazing while also letting him have his moment."