Robbie Williams reveals if he ever snogged any of his Take That bandmates #
Robbie Williams never snogged Gary Barlow, Jason Orange, Howard Donald or Mark Owen when he was in Take That in the 90s.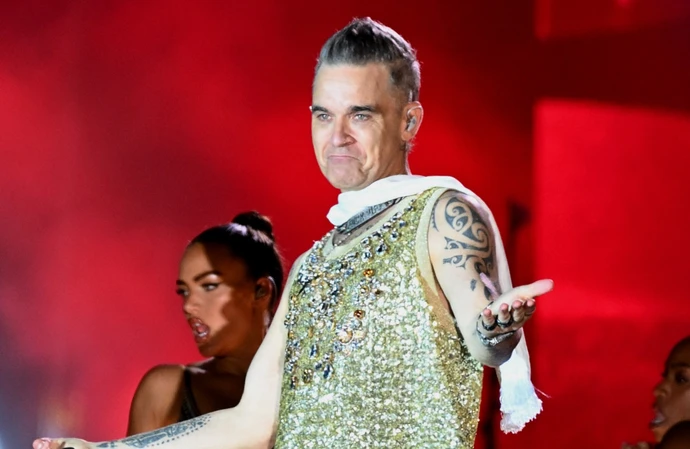 Robbie Williams never snogged anyone in Take That.
The 'Angels' hitmaker - who is now father to Teddy, 10, Charlie, eight, Coco, four, Beau, three, with his wife Ayda Field, 44 - denied ever locking lips with bandmates Gary Barlow, 52, Howard Donald, 55, Jason Orange, 53, or Mark Owen, 51, when they were at the height of their fame.
When asked if kissed any of the lads, 49-year-old pop icon - who left the 'Never Forget' group in 1995 - told the Sun newspaper "No".
Robbie shared that he feels he has "used up all the natural good stuff" and has therefore "got the manopause" having "used everything up" during his Take That boyband days and when he went solo and began to live it up with Oasis at Glastonbury in the 90s.
He said: "The hair is thinning, the testosterone has left the building, the serotonin is not really here and the dopamine said goodbye a long time ago.
"I've used up all of the natural good stuff. I've got the manopause.
"My daughter says to me, 'Daddy's lazy'. I don't like the term 'lazy' as that's how I was described when I was younger.
"The reality is that I'm just f****** knackered from what I did to myself in the Nineties and bits of the 2000s."
The 'Let Me Enterain You' singer detailed suffering with his "different sleep pattern" - which is a recognised symptom of men producing less and less testosterone as they age alongside mood swings, loss of libido and muscle mass, a condition of andropause - which involves not getting up until the mid-afternoon amid defeating his sleeping pill addiction.
Robbie - who is gearing up to release a four-part Netflix documentary about his life and times on November 8, titled 'Robbie Williams' - said: "I have a different sleep pattern to other people.
"I'm magnetically drawn to 4 am and falling asleep at six, and there's nothing I can do about it.
"I go to bed at 11 pm and I'm just lying there completely awake and completely alert until 5 am.
"It's one of the banes of Ayda's existence that she doesn't get me until 1 pm."