Taylor Swift hails Jack Antonoff for his 'beautiful art'
Taylor Swift has been heaping praise on the contributors and collaborators that made '1989 (Taylor's Version)' possible.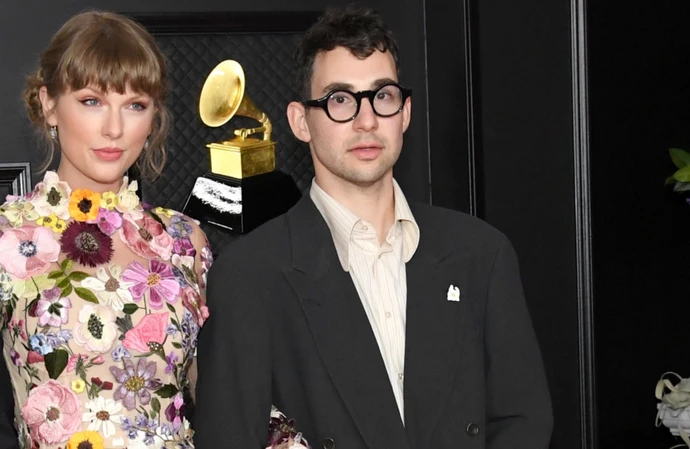 Taylor Swift has gushed over her regular collaborator, Jack Antonoff, and the "beautiful art" she's witnessed him create over the years.
The 33-year-old pop megastar took to Instagram to heap praise on the 39-year-old studio wizard as the pair released 'Sweeter Than Fiction (Taylor's Version)', the re-recording of the first track they made together, on a special tangerine Target vinyl of '1989 (Taylor's Version)'.
The 'Shake It Off' hitmaker admitted she sees Jack as her "precious young son", despite him being several years older than her.
Alongside a series of snaps of them together and a preview of the track, she wrote on Instagram on Sunday (29.10.23): "There you'll stand ten feet tall, I will say 'I knew it all along'.
This song has always made me think of my friend Jack. It was the first song we made together and watching him challenge himself and make beautiful art over the years has been the thrill of a lifetime. How can he be 6 years older than me and also somehow still be my precocious young son? We may never know. "Sweeter Than Fiction (My Version)" is now available exclusively at Target on Tangerine vinyl. (sic)"
Taylor released '1989 (Taylor's Version)' last week, and it also features rapper Kendrick Lamar, 36, on the remix of 'Bad Blood (Taylor's Version)'.
And the Grammy winner says watching him lay down his verses was "one of the most inspiring experiences" of her life.
She gushed on the social media app: "Watching @kendricklamar create and record his verses on the Bad Blood remix was one of the most inspiring experiences of my life. I still look back on this collaboration with so much pride and gratitude, for the ways Kendrick elevated the song and the way he treats everyone around him. Every time the crowds on The Eras Tour would chant his line 'you forgive, you forget, but you never let it… go!', I smiled. The reality that Kendrick would go back in and re-record Bad Blood so that I could reclaim and own this work I'm so proud of is surreal and bewildering to me. I'm overjoyed to say that the Bad Blood Remix (featuring Kendrick Lamar) is available everywhere on the 1989 Deluxe Edition."