'Oh we are definitely going to keep on going': Scouting For Girls vow to never retire
Scouting For Girls frontman Roy Stride says it would be his "dream" to keep playing shows and making music to the day he dies.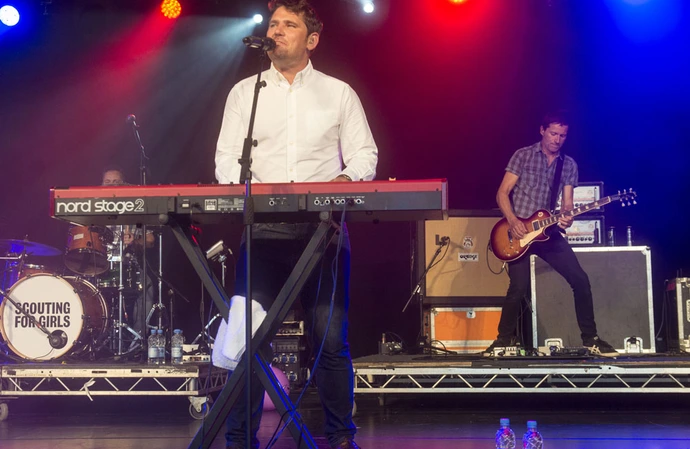 Scouting For Girls would rather die on stage than retire from touring.
Frontman Roy Stride - who is joined by Greg Churchouse and James Rowland in the pop rock band - has vowed to continue rocking through their 70s and 80s.
Speaking to the Daily Star newspaper's Wired column, he said: "Oh we are definitely going to keep on going.
"Greg has just had a kid and you know how expensive kids are!
"I mentioned something about doing slightly less festivals next year and he was like, 'No you can't retire until Marnie is at least 21', and she's not even one yet!"
Roy continued: "Well, I don't think I will ever retire. It is my dream to make music.
"We did a gig with The Wurzels and they're like in their 70s and 80s and they're still having a great time - that's the dream."
The 44-year-old musician believes dying on stage wouldn't be so bad if it happened instantly.
He chuckled: "I had this weird dream that I died recently, and we were talking about dying on stage.
"If it was like a lightning strike and happened really quickly then I was like, 'Yes that is the way to go!'"
Meanwhile, Roy recently revealed Harry Styles is keen to record a song with him.
The 'She's So Lovely' hitmaker used to pen tracks for the 'Watermelon Sugar' singer's old band One Direction, and while he didn't think the pop superstar would remember him when their paths crossed recently, he was delighted when Harry suggested they work together again.
Roy told Heat magazine: "[I used to hang out with] bands like One Direction and 5 Seconds of Summer, because I worked with them to write some songs for their albums.
"People would be pleased to know that they were always absolute joys.
"I actually bumped into Harry Styles in LA in a restaurant a couple of years ago.
"I assumed he wouldn't remember me, so I didn't go over, but he actually came up to me and said we should get back in the studio together."