Doja Cat announces new album Scarlet is coming next month
Doja Cat is releasing her follow-up to 2021's 'Planet Her' next month.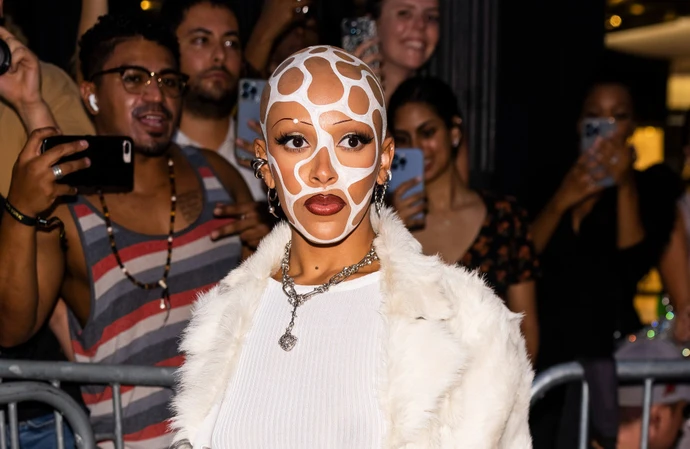 Doja Cat has announced her new album, 'Scarlet', will be released on September 22.
The 27-year-old star took to Instagram to unveil the album cover for her follow-up to 2021's 'Planet Her', which is a red tarantula.
This summer, Doja has released the singles 'Attention' and viral sensation 'Paint The Town Red', despite the star recently vowing to stop making "palatable, marketable and sellable" music.
The 'Say So' hitmaker claimed that all her future music will be "authentic" after she channelled all the "rage" she felt toward the music industry into an eclectic album that traverses "rap, soul and R'n'B music with jazz".
In a cover interview with V magazine - which saw the star free the nipple in a mesh top - she said: "I have thrown fits my whole career because I have been making music that didn't allow me to have a mental release.
"I have been making music that is palatable, marketable and sellable, that has allowed me to be where I am now.
"These upcoming projects are going to be very different compared to everything I have done and I am excited about that.
"I do not care if people are not."
Doja added: "I have made pop music. I'm currently making rap, soul and R'n'B music with jazz elements."
The singer-and-rapper previously admitted her last two albums were "cash-grabs".
The 'Kiss Me More' hitmaker - who can be known to retract her social media statements - told millions of her followers that she would not be putting out "mediocre pop" and claimed 'Planet Her' and 2019's 'Hot Pink' were just about making a tonne of money.
She also went back on a previous post in which she announced her new album would be called 'Hellmouth'.
She tweeted: "planet her and hot pink were cash-grabs and yall fell for it. now i can go disappear somewhere and touch grass with my loved ones on an island while yall weep for mediocre pop. (sic)"
She added: "its not called hEllMoUth either its called "First of All" and yes I'm announcing the album title right now. (sic)"
However, the title is still yet to be confirmed.
Doja - whose real name is Amala Ratna Zandile Dlamini - previously teased an entirely different project, telling Variety: "I want to explore punk. But not pop-punk. I feel like we have enough pop-punk artists right now. And if there needs to be more, then let there be more, but I don't think I'm the one to do it.
"I want to explore more of a raw, unfiltered, hardcore punk sort of thing. It's just something that I'm doing for my own personal fun - getting some drummers and guitarists together. And I don't even know if that's gonna make it out there."