Post Malone planned for Austin to be an acoustic album
Post Malone tried to "really push myself" and "really do some cool stuff" on the upcoming album.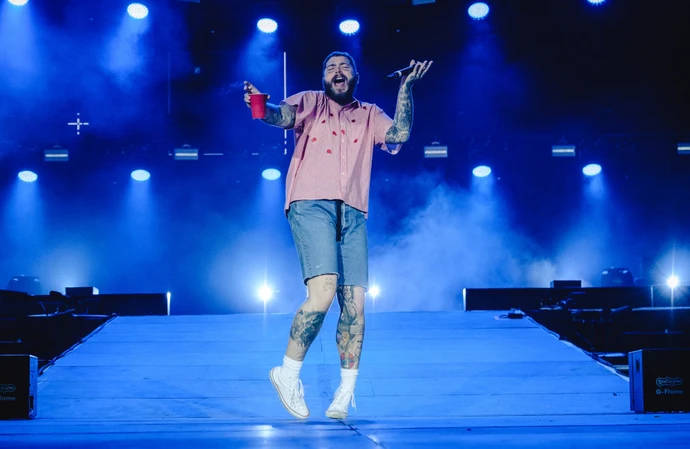 Post Malone's new album 'Austin' was going to be a fully acoustic project.
The 'Circles' hitmaker, who plays guitar on each track on the upcoming LP, among other instruments, had told his label boss that he wanted to make a stripped-back guitar album.
However, it turned into an entirely different record altogether.
Mercury Records president Tyler Arnold said: "Right after the last album ['Twelve Carat Toothache'], Austin texted me and said, 'Hey! Have a studio free tomorrow. I want to start making an acoustic album' – although, this is definitely the farthest thing from being an acoustic album."
Post is quoted by NME as saying at an album listening party for press that: "I was scared to play a little guitar on there.
"I played some weird instruments on here as well. I became quite the maraca pro, and a tambourine pro – word to Mick Jagger."
The star announced earlier this week that 'Austin' is set for release on July 28.
The 'Better Now' hitmaker - whose real name is Austin Richard Post - admitted he found making the follow-up to 2022's 'Twelve Carat Toothache' the "most challenging and rewarding" experience.
In an Instagram video update, he said: "Hey guys, what's going on?
"It's Posty. I wanted to say that I love you guys so very f*****' much. I'm here on tour in Europe right now. And I wanted to tell you guys that I have an album coming out this summer on July 28th. It's called 'Austin,' like my name. That is my name. It's been some of the funnest music, some of the most challenging and rewarding music for me, at least.
"You know, trying to really push myself and really do some cool stuff."
The second track from the album, 'Mourning', is out on Friday (19.05.23).
The first, 'Chemical', was released in April as part of 'The Diamond Collection'.
Post continued: "I played guitar on every song on the record and it was a really, really fun experience. I'm super, super excited to share it with you. 'Chemical' is out and that song is on the record. And then on Friday, I have another song called 'Mourning' with a 'u'… like that. But I'm super excited to get that out for you guys. We just shot a music video in Scotland, it's absolutely stunning up there. There's a big a** ice cube in it which I thought was pretty bad***."
He added: "But I'm super excited for you guys to hear it and I love you guys so very much.
"You know, I hope you guys just keep f*****' being amazing and keep spreading love and just keep being yourself and I f*****' love y'all, man. Have a great f*****' night, have a great f*****' week, hug your fam, and just keep spreading love. Love you guys!"