Mani's late wife comforted herself with meditation and by reading worried pals' messages in weeks before cancer death
A clip of The Stone Roses bassist's Mani's late wife Imelda Mounfield talking about her coping mechanisms in the face of stage four bowel cancer has emerged after she was killed by the disease, showing her telling fans meditation and kind messages were helping her cope.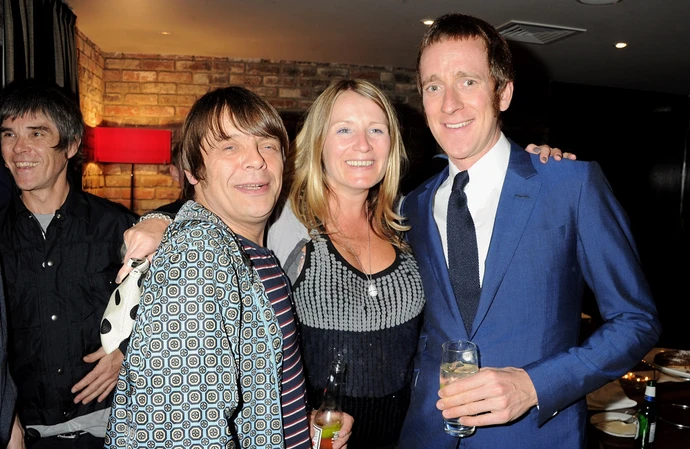 The Stone Roses bassist Mani's late wife took comfort in her final months from meditation and reading messages from worried friends.
Imelda Mounfield passed away on Saturday (18.11.23) after being diagnosed with stage four bowel cancer in November 2020, and at one of her and Mani's charity fundraisers in August she opened up about what gave her solace amid the devastating illness.
She said during a press conference in August at the event, for cancer support charity Maggie's: "I do a lot of meditation and yoga and if I'm having a bad day, I think I've got some tools in the box to turn it around.
"And I know I'm having a bad day and I think, 'I don't want to have a bad day, I want something to come of this,' and I'll do certain exercises that turn me round and lift mu mood and make me feel positive."
Video of Imelda at the event is being shared by fans in the wake of her death, and she also admitted in the clip: "You can't be positive 100 per cent all the time".
But she added: "I know I've got good people thinking good thoughts about me – you do take some inner strength from that and it propels you forward.
"So for me, it is a real lovely thing and I can be feeling down and think, 'I might get a message from someone from London or wherever', and just saying, 'I'm thinking about you Mel.'
"And I'm like, (it) chokes you up, but then you think, 'Great, they are out there, and I am not the only one in this situation.'"
Imelda's death was announced on X by 57-year-old Happy Mondays singer Rowetta, who said about Mani's partner: "So beautiful, so brave, so LOVED. We're all going to miss you Imelda Mounfield.
"All my thoughts and love to Mani and your beautiful, precious boys and love to all Imelda's family and friends."
The Stone Roses frontman Ian Brown, 60, paid tribute to Imelda on X by saying: "Rip @imeldamounfield GOD BLESS MANI and his boys X."
Imelda's death comes weeks after The Stone Roses' bassist Pete Garner died aged 61 – also reportedly after a cancer battle.