Rosamund Pike always felt like an outsider
Rosamund Pike often felt like an outsider growing up.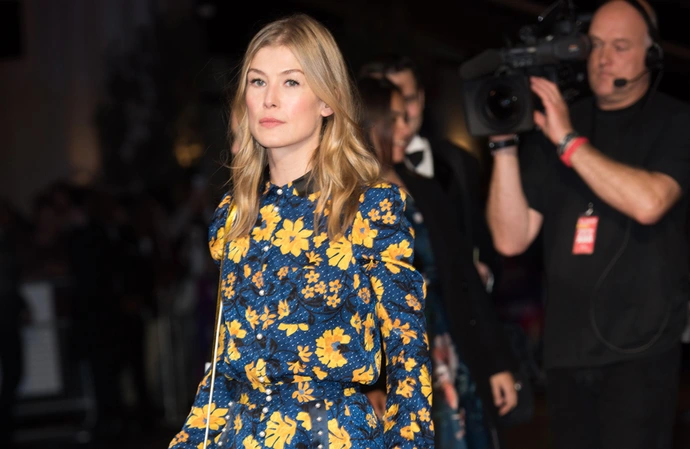 Rosamund Pike has always felt like an "outsider".
The 'Saltburn' actress - who is the daughter of two opera singers - admitted she has often found herself feeling like she "didn't belong" as she struggled to navigate the "rules" around life in British society.
She admitted to The Guardian newspaper: "I've always felt like an outsider...
"I've been in situations where I was aware I didn't belong.
"I was invited to a horse race, and as usual I worried about the code – there are so many rules in British society.
"I asked these girls if I needed to wear a hat. 'Oh God, no. No hats.' Of course, when I turned up, everybody was in hats, including the girls who told me you didn't need one. Probably I made a faux pas by even asking."
The 44-year-old star received a 75% scholarship to prestigious boarding school Badminton and was warned by her mother she may feel out of place, though she didn't think her family's lack of wealth would have concerned her otherwise.
She said: "[My mother] said: 'I want you to be aware that you'll probably find everybody has things you don't have, and that we can't give you.' As a child, would I have noticed? It was her worry, and maybe it wouldn't have been mine.
"People would go on holidays so there was a lot of not relating to that. I don't think I'd even been on an aeroplane. Girls would fly in to school from other countries, talking about this thing called 'jet lag.'"
Rosamund then went on to study at Oxford University, and didn't feel like she fitted in there either.
Asked if she felt she belonged at university, she said: "No. I've almost enjoyed it more in retrospect, realising that people who I thought were intimidating back then were just as scared as I was."
But the 'Gone Girl' actress enjoyed being a student before the digital age.
She said: "There was the Pigeon Post, where if you'd seen someone you fancied in a lecture, you could write them a note, then these guys on bikes would leave it in the right pigeonhole. I got one called 'Looking for Cinders'. Someone had tracked me down after seeing me at a party. It was quite sweet and romantic. You had to put in a lot of hard work."
Rosamund eventually found her place when she joined the National Youth Theatre.
She said: "These were kids from all over the country who had the same feeling of freedom when they performed. That's where I've always found freedom, not in social situations. You want to be with other people who are interested in what it feels like to be human."