Charlie Sheen's daughter Sami admits she's in agony after going under knife for boob job: 'Back pain is horrible!'
Despite her 'Wild Things' star mum Denise Richards pleading with her not to have plastic surgery, Sami Sheen has gone ahead with her breast augmentation - which she says has left her in agony.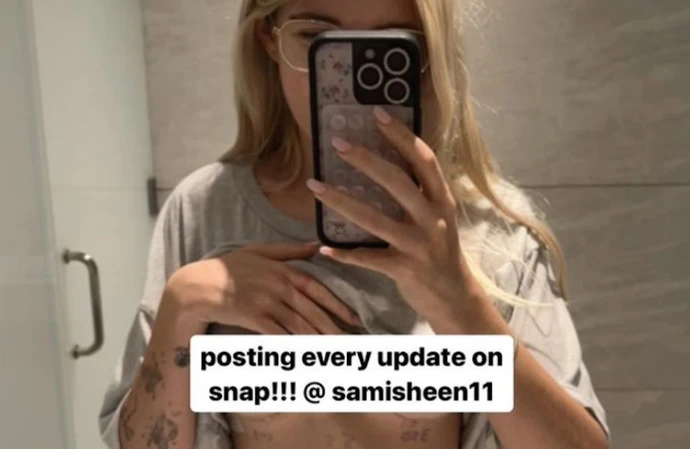 Charlie Sheen's daughter Sami has had a boob job weeks after her mum Denise Richards begged the teenager not to go under the knife.
The 'Platoon' actor, 58, had Sami with 'Wild Things' actress Denise when they were married from 2002 and 2006 and they couple have had their differences over the teen joining OnlyFans.
Sami has now told her online fans she underwent breast augmentation surgery after more than a year of planning by declaring: "Guess who got a new rack todayyyy."
She documented the entire process—from her first consultation in February 2022 to her return home from the operation room in a series of photos posted on her TikTok.
One image showed her dressed in a surgical gown and hairnet in preparation for the procedure, before she was pictured leaving the hospital in a wheelchair in another snap.
Other images taken from her plastic surgery journey included a closeup of a breast implant and a mirror selfie of Sami trying it on.
She also shared a pre-op photo on her Instagram Stories, writing in the caption: "Guess who got a new rack todayyyy."
And Sami posted an image of herself showing off her chest on her Instagram Story, telling fans more updates were to come about her operation.
Sami has since been recovering at home and posted on her Snapchat about the pain she was feeling: "Holy hell feels like the implants r in my armpits and neck."
She added: "Back pain is horrible from sleeping up straight. idk how to explain it but it just feels like the implants r gonna rip off me."
Sami launched her OnlyFans profile last year with the support of her mum Denise – but Charlie, who also has daughter Lola Sheen, 18, with the actress, was initially furious she had signed up to the site before eventually backing the teen.
But Denise recently said she had been battling to convince Sami not to have a boob job by sharing her regrets over getting a breast augmentation around her age.
The mum-of-three, who adopted a third daughter at birth, Eloise Joni Richards, told Bustle: "I was made fun of as a teenager (because my boobs) were mosquito bites. I got them done at the same age Sami is wanting to get them done."
Referring to how she is planning to get her implants removed, Denise added: "I'm trying to talk her out of it because, and the reason why I'm getting them out, is I didn't know how toxic (they are) when I was 19.
"And it's not an easy surgery. It's painful!"
Sami told Bustle she was intent on getting the procedure so she can have D-cup breasts, adding: "I was 10 years old and like, 'I can't wait to have big boobs like my mom.'
"All my friends were getting boobs, and I was just like, 'OK, when's it my turn?' I would always stuff my bra with socks and stuff."