Prince's fashion collection goes on sale
Prince's fashion collection is on sale via RR Auction of Boston.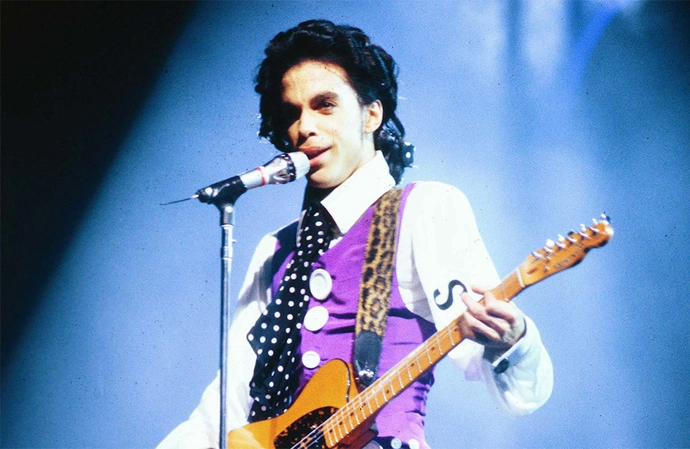 Prince's ruffled shirt is expected to fetch $15,000 at auction.
Items from the late music icon's wardrobe are up for grabs after the collector walked back on their decision to open a museum to showcase the items.
Among the sought-after lot is the shirt Prince donned for his performance of his smash hit 'Purple Rain' at the 1985 American Music Awards.
However, the costume Prince wore in his 1986 directional debut 'Under the Cherry Moon' is expected to make much more money, with the auctioneer expecting it to go for around $45,000.
The 'When You Were Mine' singer's platform blue boots from the; Act I Tour' could fetch $20,000, and a gold ensemble with love symbols has an estimate of $10,000.
The collection up for grabs also includes guitars, polaroids and master tapes of his albums.
A blue Schecter 'Cloud' Guitar played by the '1999' hitmaker has been valued at $4,000.
Bobby Livingston of RR Auction commented: "What this auction really does is it shows the influence and legacy of Prince with his fashion choices and how it relates today, when you see all these artists on tour, you know, different costumes, different outfits, reinventing themselves for each tour."
The sale ends on November 17.
The auction news comes after Prince was honoured with his own road in Minneapolis.
The state's politicians voted in favour of the road being renamed the Prince Rogers Nelson Memorial Highway after the 'Purple Rain' hitmaker - who tragically died in 2016 after an accidental fentanyl overdose aged 57.
The road passes by Paisley Park and runs for seven miles on the Minnesota State Highway 5, through the areas of Chanhassen and Eden Prairie.
Republican senator Julia Coleman and those who were close to Prince paid for the name change.
She said: "Prince was a true genius, a visionary artist who pushed the boundaries of music and cultures in ways that will never be forgotten.
"His influence can be heard in the work of countless musicians who came after him, and his legacy continues to inspire new generations of artists to this day."