'Communication is key': Taylor Lautner and wife Tay reveal biggest lesson they've learned on first anniversary
Taylor Lautner and wife Tay have reflected on their first year as a married couple.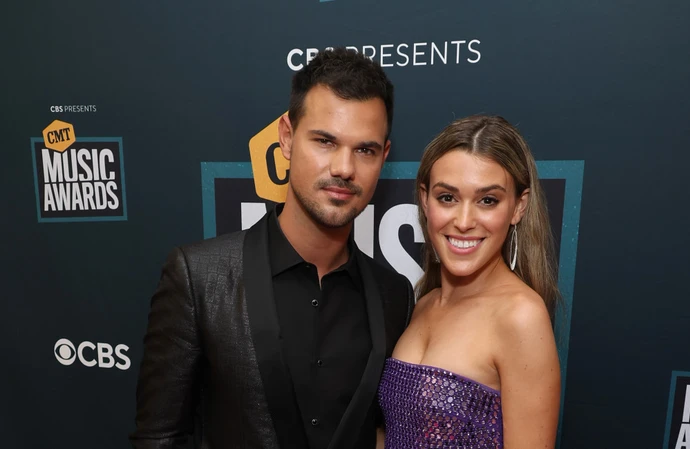 Taylor Lautner and his wife Tay say learning each other's "communication styles" has been key to their healthy marriage.
The 'Twilight' star, 31, and his nurse spouse celebrated their first wedding anniversary on November 11, and they have reflected on how "smooth sailing" married life has been so far.
Tay told People: "Taylor and I have very different communication styles.
"And so when we do get in a … I don't even want to say an argument, because we don't really argue. But when we do get in a conversation or disagreement, whatever, and we're talking through it, he knows that I go mute and don't really speak. And Taylor can process his emotions."
He continued: "It is frustrating because it's like I want to talk about everything right then and there, and get it over with.
"And I want to know her feelings. I know she's upset. I'm like, 'Just tell me.' But she just goes blank and she needs to take a step back to take a moment to process and think and realise exactly what she's feeling. So as soon as we figured out each other's different communication styles, now it's a whole lot easier to get through those conversations."
The couple were warned that the first year can be the hardest but they couldn't have had a more different experience.
Taylor said: "We've been warned by so many people like family, friends, 'First year marriage. You know, it's the hardest.'
"And we were like, 'Really? Okay.'"
Tay said: "We giggle. We're like, 'When's it coming? We're just waiting.'"
Taylor - who previously romanced Taylor Swift, 33, Billie Lourd, 31, and Selena Gomez, also 31 - laughed: "Hopefully it's not like a slow burn or something.
"It's been pretty smooth sailing so far."