James L Brooks: The Simpsons will keep strangling scenes
Bart Simpson will "continue to be strangled" by his dad Homer on 'The Simpsons', producer James L. Brooks has insisted.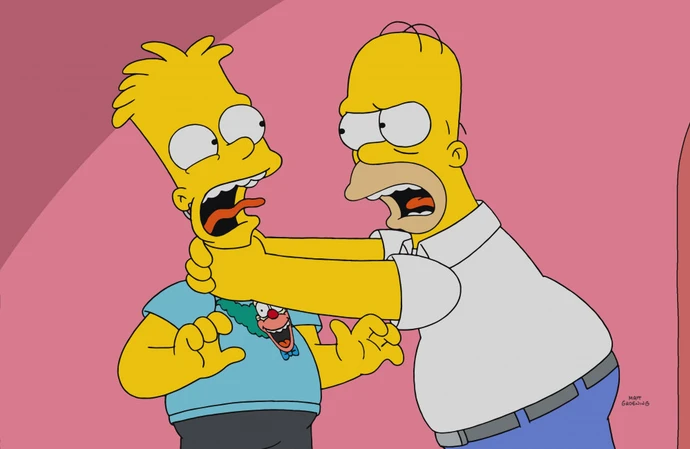 Bart Simpson will "continue to be strangled" by his dad Homer on 'The Simpsons'.
The animated sitcom suggested the familiar scene between the family was being ditched for good during an episode that aired in October, but co-creator and producer James L. Brooks has insisted "nothing" on the programme is being "tamed".
In the 22 October episode 'McMansion and Wife', The Simpsons' new neighbour, Thayer, noticed Homer had "quite a grip" as they shook hands.
The hapless patriarch - who is voiced by Dan Castellaneta -smiled as he replied: "See, Marge, strangling the boy has paid off. Just kidding. I don't do that anymore. Times have changed."
But asked about the episode, James insisted it wasn't an indicator of things changing.
He told People magazine: "Don't think for a second we're changing anything."
He then showed an illustration of Homer strangling Bart, who was holding a smartphone featuring a news article that was headlined: "Simpsons: No more strangling."
A text bubble showed Homer shouting: "Why you little clickbaiting-!!"
James added: "Nothing's getting tamed. Nothing, nothing, nothing.
"He'll continue to be strangled - [if] you want to use that awful term for it. He'll continue to be loved by his father in a specific way."
Despite the producer's comment, Homer hasn't actually strangled Bart - who is voiced by Nancy Cartwright - in an episode since the show's 31st season, which aired between 2019 and 2020.
'The Simpsons' has made a number of changes in recent years due to controversy, most notably over the negative stereotypes surrounding Kwik-E-Mart owner Apu Nahasapeemapetilon, which were highlighted in 2017 documentary 'The Problem with Apu'.
In 2020, Hank Azaria stepped down from voicing the character, noting it was the "right thing" to do, and the role hasn't yet been cast, with the store owner only making background appearances in recent seasons.
Hank later reflected on the 'Armchair Expert' podcast: "I really didn't know any better. I didn't think about it. I was unaware how much relative advantage I had received in this country as a white kid from Queens.
"Just because there were good intentions it doesn't mean there weren't real negative consequences to the thing that I am accountable for."
In 2021, Kevin Michael Richardson took over voicing Black medic Dr. Hibbert from Harry Shearer.
Fox had previously confirmed: "Moving forward, The Simpsons will no longer have white actors voice non-white actors."