Dustin Lance Black 'very grateful' after assault case is dismissed mid-trial
Dustin Lance Black is "very grateful" an assault case against him has been dismissed mid-trial because the judge felt the prosecution's evidence was inconsistent.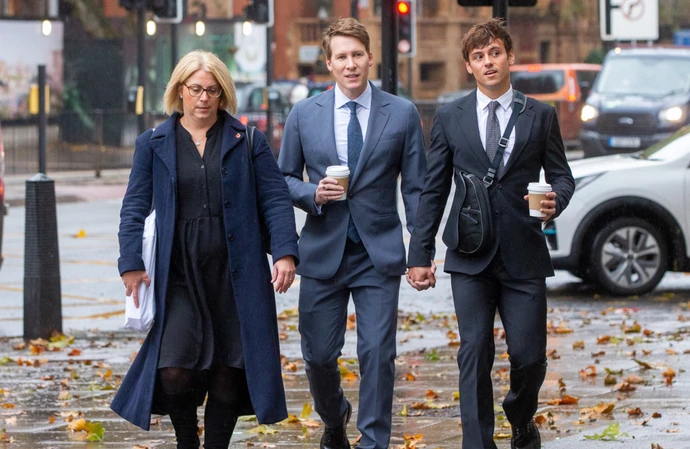 Dustin Lance Black is "very grateful" an assault case against him has been dismissed mid-trial.
The 49-year-old screenwriter - who has two children with husband Tom Daley - had been accused of lashing out at BBC presenter Teddy Edwardes while out with his spouse at the Freedom nightclub in central London on 18 August last year, but on Wednesday (08.11.23), District Judge Louisa Cieciora dismissed the charge, citing inconsistences in the accuser's live evidence.
The 'Milk' writer was alleged to have grabbed the woman's wrist "very hard", spilling a drink over her.
But the judge told the court: "[Edwardes] said in her evidence at one point that she could not remember a wrist grab.
"She then said that she was sure that it did happen - and that was an obvious contradiction."
The judge felt CCTV footage was "not clear" due to "the angle of the camera".
The ruling follows a submission from Lance's defence lawyer, Helena Duong, who had argued the prosecution failed to prove her client had grabbed Teddy's wrist, instead of just grabbing her drink and spilling it on the floor.
She argued it was the accuser who had shown aggression, with the court told the 33-year-old presenter had received a police caution after punching lance in the back of the head following their row.
Speaking after the judge's dismissal, Lance said in a statement: "This case has flown in the face of everything that I am.
"I am very grateful to the judge for exonerating me."
Shortly after the row took place, 'The Big Proud Party Agency' star Teddy had insisted she "wasn't that violent" towards the writer.
In a series of videos on her Instagram Stories, Teddy alleged: "I went out for a couple of quiet drinks with some friends last night, nothing crazy and I bumped into Tom Daley and his husband in Soho, who pretty much unprovoked he threw an entire drink over me in Freedom.
"I didn't have a drink to throw back so I did choose violence, but I wasn't that violent he got a little tap on the head.
"Tell me why he is crying outside saying it's a targeted attack and he's traumatised and called the police, so I have to wait for hours and now I have been cautioned and have to go in for interviews."