Robbie Williams had to halt filming on 'triggering' documentary
Filming on Robbie Williams' Netflix documentary series had to be halted several times as the pop star struggled to look back on 'triggering' moments of his addiction and mental health battles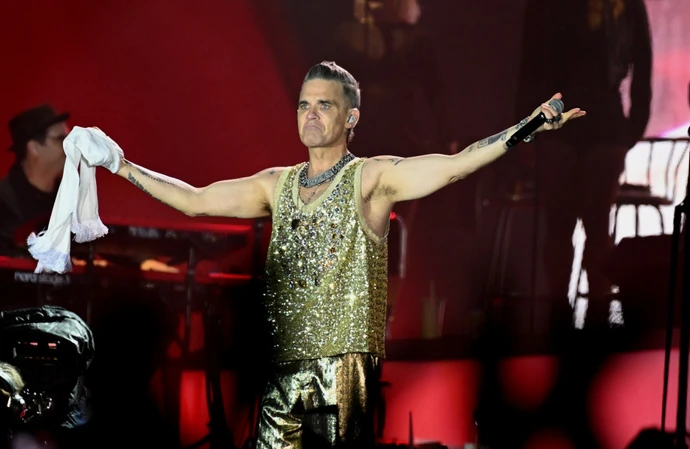 Filming on Robbie Williams' documentary had to be halted several times as he struggled to look back on "triggering" moments.
The 49-year-old pop star is seen reliving his past by watching old videos in new Netflix series 'Robbie Williams' which covers his rise to fame, career in Take That and his solo success as well as his issues with addiction and mental health battles.
Director Joe Pearlman has now revealed looking back on the darker aspects of his life often proved too much for the singer. Joe told The Independent newspaper: "He was going to have to rewatch active addiction: I think we knew that was going to be incredibly challenging and also potentially triggering.
"So we had to be very careful around those moments ... This thing would take its toll on a person. And there were times when we couldn't continue, times when we had to call it [off] and that was fine."
Joe also revealed Robbie's wife Ayda Field told him that every day after filming wrapped, the singer would get into bed and just stare at the ceiling.
He added: "There are a few moments in this show that I can't believe someone would survive it and be able to continue and carry on to talk about it, never mind reliving it."
In the documentary, Robbie opens up about dark moments from the past including a past battle with suicidal thoughts, revealing he thought it might be "best if I just passed away".
He has also touched on his battle with eating disorders in a recent interview with The Sun newspaper, saying: "I looked into eating disorders … and yes, there's been an overarching eating disorder that has been with me all my life, it's a mixture of all the disorders. "I had 'bigorexia', which is thinking you have no muscles and no size, and anorexia. "There is a word that's missing though, and that's what I am. It was either restrictive or over-eating – I've never had it right. "There is an eating disorder ... I'm just not sure which one is my brand."