Friends cast reunite for Matthew Perry's funeral following the tragic death of their co-star
The cast of 'Friends' reunited to attend Matthew Perry's funeral on Friday (03.11.23) afternoon, just days after they paid tribute to their former co-star following his death at the age of 54.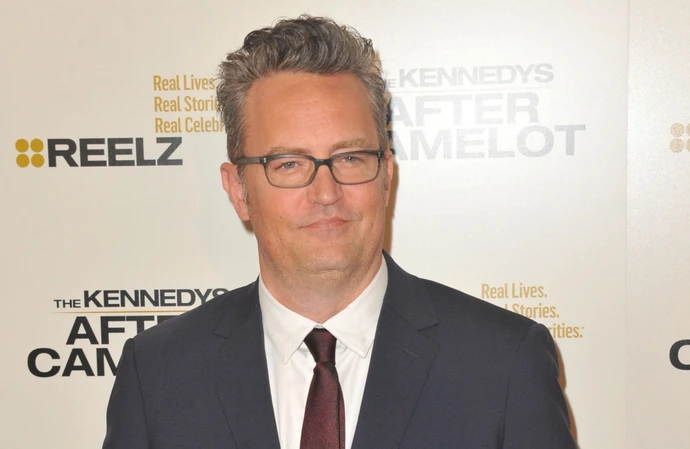 The cast of 'Friends' reunited to attend Matthew Perry's private funeral on Friday (03.11.23) afternoon.
The actor was found dead in his home last Saturday (28.10.23) in a suspected drowning and now former co-stars Jennifer Aniston, Matt LeBlanc, David Schwimmer, Lisa Kudrow, and Courteney Cox got together with the tragic sitcom star's family at a memorial service, which was held at Forest Lawn Memorial Park in Los Angeles, according to TMZ.
All five of Matthew's co-stars from the hit show are said to have been in attendance and dressed in black for the occasion, which was held just across the road from the Warner Bros. Studio lot where they spent 10 years filming the now-classic NBC sitcom.
In pictures obtained by the outlet, around 20 mourners could be seen hugging as they gathered around the burial plot.
News of the funeral comes just days after the cast of 'Friends' released a statement regarding their "unfathomable loss" and promised fans they would say more when they felt able to.
The statement read: " We are all so utterly devastated by the loss of Matthew. We were more than just cast mates. We are a family. There is so much to say, but right now we're going to take a moment to grieve and process this unfathomable loss. In time we will say more, as and when we are able.
"For now, our thoughts and our love are with Matty's family, his friends, and everyone who loved him around the world."
The '17 Again' star had battled with addiction throughout his life but it was thought that he had been on the road to recovery following extensive rehab and on the day of his funeral, the website for The Matthew Perry Foundation went live.
A statement said: "The Matthew Perry Foundation is the realization of Matthew's enduring commitment to helping others struggling with the disease of addiction. It will honor his legacy and be guided by his own words and experiences and driven by his passion for making a difference in as many lives as possible."
Matthew died in a suspected drowning, and police said there were no signs of foul play at the scene of his death, but the LAPD's Robbery Homicide Division has taken over the investigation into his shock passing.
TMZ reported on Tuesday (31.10.23): "It may come as a surprise to some because foul play is not suspected at this point, but cops say it's just standard procedure for (its Robbery Homicide Division to investigate) high-profile cases."