Robbie Williams was 'close' to death after going without sleep for 144 hours during 6-day bender
Singer Robbie Williams has told how once went without sleep for 144 hours during a six-day drink and drugs bender in the 1990s, but the star has since realised it could've been his "fast-track to death".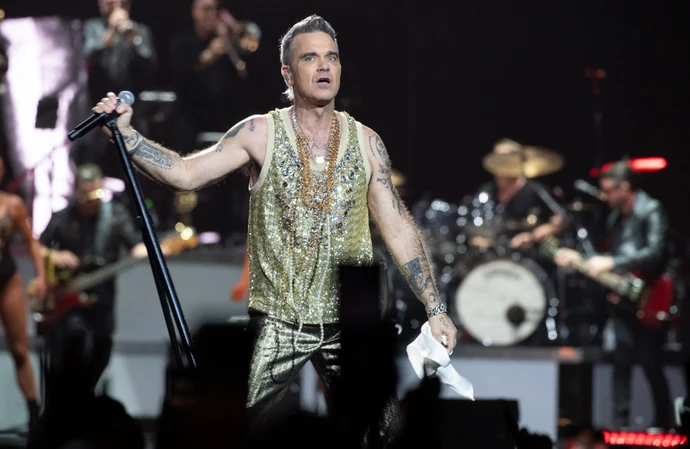 Robbie Williams once went without sleep for 144 hours during a six-day drink and drugs bender - and the star now believes he was "close" to death.
The 49-year-old singer thought downing drink and taking drugs was his "superpower" in the 90s, but has since realized it could've been his "fast-track to death".
Recalling a huge session in 1996, he told The Sun newspaper: "I thought I could snort the most, take the most pills, drink the most and I thought that was a superpower at the time.
"I didn't know that was my fast-track to death. You feel like you're indestructible, I didn't feel I was going to die. It's only subsequently I realize I was close.
"I stayed awake for six days. I was with somebody with deals to the dealers and it was a six-day bender, and it went very quickly."
Robbie has told how he threw up "black bile" after taking "absolutely anything" he could in "all quantities" before performing at an MTV Awards with Take That.
He said: "There was a time with Take That before our first MTV awards in Brussels when I went on, shall we say, a very long celebrity weekend.
"And I just went absolutely mental, taking absolutely any- thing I could in all quantities, and then before the live show I was spewing my guts out with this black bile. It just filled the bathroom floor.
"A doctor injected me with something, then I went and did the show. It made me scared.
"I did the show and then went back out again and carried on like nothing had happened."
But when he returned to London, Robbie - who is gearing up to release a four-part Netflix documentary about his life on November 8, titled 'Robbie Williams' - had a realization that he was an addict.
He added: "The next day we flew to London and I was walking around Chelsea Harbour and it hit me, 'Oh s***, I'm an alcoholic, I'm an addict'.
"Because I'd been close to death but had carried on regardless, abasing my better judgment, so by the time it came to the end of Take That I was doing fully-blown alcoholism and desolate times."
Robbie recently admitted making his new documentary was a "trauma watch" and like witnessing a "crash you were involved in".
He told The Times newspaper: "It was like watching a crash you were involved in, but in slow-mo.
"(Making the documentary) was like enduring your mental illness at a very, very slow pace, over a very, very long time. It's a niche thing to experience, you know. There aren't many support groups for it.
"When they asked me to make the documentary, I came up with a jingle for it: 'Trauma watch!, Trauma watch!, Have a trauma watch!. I was in Take That then I left Take That, Then I did drugs and I got real fat'."