Travis Barker calls his and Kourtney Kardashian's unborn son Rocky again
Travis Barker has seemingly confirmed his unborn son is called Rocky.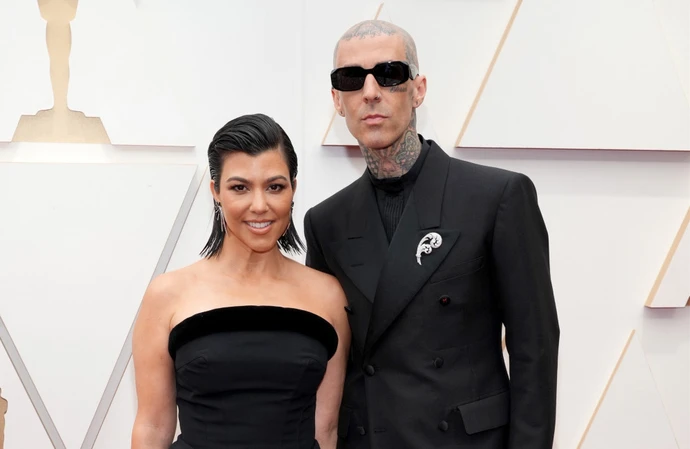 Travis Barker has once again hinted his and wife Kourtney Kardashian's son is called Rocky.
At the couple's baby shower, where guests were encouraged to leave messages for the baby, one named the unborn tot Rocky.
It read: "May Baby Rocky have … life filled with love."
The Blink-182 drummer had previously revealed it's his dream to call his son Rocky Thirteen after Rocky George from hardcore metal band Suicidal Tendencies and boxer Rocky Balboa (Sylvester Stallone) from the 'Rocky' and 'Creed' movies.
Now speaking to Toby Morse on the 'One Life One Chance' podcast, he slipped up: "There was a benefit in Hawaii that we were gonna do, but it's the week that Rocky's due."
The host then said: "Rocky Thirteen Barker," to which Travis repeated: "Rocky Thirteen Barker!"
The sticksman then joked: "He's gonna come out of my wife's vagina like doing front kicks and push-ups."
Travis - who has 17-year-old Alabama and 20-year-old son Landon with ex-wife Shanna Moakler and is also stepfather to her 24-year-old daughter Atiana De La Hoya - previously admitted he likes the name Rocky Thirteen, even though his daughter thought it was "so bad".
Speaking on Complex's 'GOAT Talk', he told Alabama: "I like Rocky Thirteen."
She laughed: "That's so bad."
The 47-year-old musician admitted the name had been "going through [his] head lately."
Before explaining: "Rocky George played guitar for Suicidal Tendencies. And 13 is just the greatest number of all time.
And Rocky, the greatest boxing movie of all time."
Kourtney - who already has Mason, 13, Penelope, 11, and Reign, eight, with her ex-boyfriend Scott Disick - recently required urgent surgery in order to save their baby's life.
The Poosh founder - who married Travis in 2022 - wrote on Instagram at the time: "I will be forever grateful to my incredible doctors for saving our baby's life. I am eternally grateful to my husband who rushed to my side from tour to be with me in the hospital and take care of me afterwards, my rock. And to my mom, thank you for holding my hand through this.
"As someone who has had three really easy pregnancies in the past, I wasn't prepared for the fear of rushing into urgent fetal surgery. I don't think anyone who hasn't been through a similar situation can begin to understand that feeling of fear. I have a whole new understanding and respect for the mamas who have had to fight for their babies while pregnant.
"Praise be to God. Walking out of the hospital with my baby boy in my tummy and safe was the truest blessing. [prayer and heart emojis] (sic)"
Their little bundle is due anytime now.