Megan Fox slammed for flouting SAG-AFTRA's Halloween guidelines with 'Kill Bill' costume
Despite labour union SAG-AFTRA urging actors not to dress up as characters from struck TV shows and movies, Meghan Fox and her fiancé Machine Gun Kelly have flaunted the proposed ban by posing in matching 'Kill Bill' outfits for Halloween.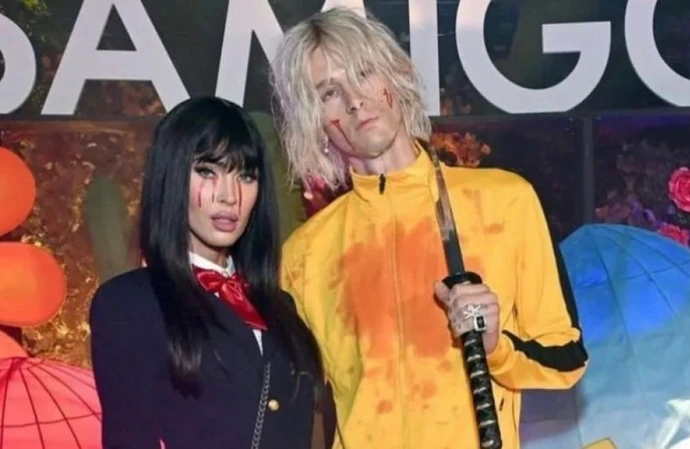 Megan Fox has been attacked for flouting SAG-AFTRA's Halloween guidelines.
The 'Transformers' actress, 37, dressed as assassin Gogo Yubari, with her fiancé Machine Gun Kelly, 33, getting into a Beatrix Kiddo outfit for the spooky season – and tagged the labour union in her set of photos of them in their 'Kill Bill'-themed outfits, despite it urging actors not to dress up as characters from struck TV shows and movies amid its ongoing walkout that has brought Hollywood to a standstill.
Actress Lisa Ann Walter, 60, best known for playing Chessy in romantic comedy 'The Parent Trap', and who has been an active picketer during the SAG strike, posted about Megan: "What a rebel. Keep posturing for stupid s***, pretty lady. Meanwhile we'll be working 10 hours a day – unpaid – to get basic contract earners a fair deal."
Megan and Machine Gun dressed as characters from Quentin Tarantino's 2003 film 'Kill Bill' for the annual Casamigos Halloween bash.
Other celebs at the party included 'Modern Family' star Sarah Hyland, 32, and her husband, Wells Adams, 39, who went as Virginia Venit and Happy Gilmore.
Despite widespread support for the SAG strike, actors who slammed its Halloween guidelines have included Ryan Reynolds and Mandy Moore.
The 'Deadpool' actor, 46, posted on X about its struck films and TV shows costume ban: "I look forward to screaming 'scab' at my 8 year old all night.
"She's not in the union but she needs to learn."
Singer Mandy, 39, said in an Instagram Story: "Is this a joke? Come on @sagaftra. This is what's important?
"We're asking you to negotiate in good faith on our behalf. So many folks across every aspect of this industry have been sacrificing mightily for months.
"Get back to the table and get a fair deal so everyone can get back to work. Please and thank you."
Former SAG-AFTRA president Melissa Gilbert also criticised the union's move.
She said on Instagram: "THIS is what you guys come up with? Literally no one cares what anyone wears for Halloween. I mean, do you really think this kind of infantile stuff is going to end the strike? We look like a joke.
"Please tell me you're going to make this rule go away… and go negotiate!
"For the love of God, people are suffering mightily and this is what you have to say…c'mon. This is the kind of silly bulls*** that keeps us on strike.
"Let's enact a policy that makes us look petty and incompetent at the same time."
Striking actors have been unified in their desire for fair wages, protections against the rising use of artificial intelligence in the industry, improvements in benefits and more since their strike kicked off on 14 June.
The storm over the Halloween costume suggestion is the first time members have expressed public disappointment with the SAG-AFTRA leadership.