Adele's make-up artist trick
Adele reportedly gives her make-up artist a key to her home so they can let themselves in and start work before she even wakes up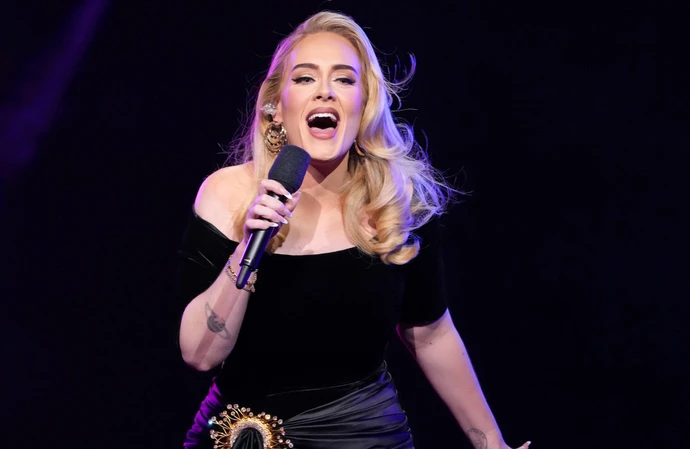 Adele gives her make-up artist a key to her home so they can let themselves in and start work before she even wakes up, according to DJ Scott Mills.
The BBC broadcaster made the claim during an episode of his BBC Radio Two show and insisted the revelation came from "someone in the know" with the DJ joking the make-up artist could get going on Adele's face while she's still asleep.
According to The Sun newspaper, Scott said: "Adele loves her sleep and wants to get eight hours every night.
"So I'm told that if she had a big day, so she can get a few extra hours in, the make-up person would have a key to the door and would apply full make-up to Adele while she was asleep, so she could get her eight hours, then wake up and be all fresh and fully made up. Then she can just leave out the door."
The news comes after Adele hit headlines over the weekend (28-29.10.23) by stopping her Las Vegas residency to pay tribute to 'Friends' actor Matthew Perry, who died on Saturday (28.10.23) aged 54.
During her concert at The Colosseum at Caesars Palace, Adele revealed she grew up watching Matthew play Chandler Bing and was deeply saddened after he was found dead at his Los Angeles home.
She told the audience: "It's always quite shocking when, especially someone that made you laugh, who brought so much joy to your life that you don't know – this what I find so strange. "I've never met him in my life. It's happened with a few other comedians and stuff like that. "But there's something so … you feel so sad about it. "Especially because you don't necessarily know what was going on."
Adele added: "But some of my favourite memories of when I was younger with my friends; and one of my friends, Andrew, when I was like 12 did the best Chandler impression and he would do it all the time to make us laugh, and if any of us were having a bad day or feeling low he would just pretend to be Chandler and I'll remember that character for the rest of my life. "I remember visiting New York for the first time and going on a 'Friends' tour, stuff like that, and (Matthew) was a really big part of my life and he was so open with his struggles with addiction and sobriety, which I think is incredibly, incredibly brave. "And yeah, I just want to say how much I love what he did for all of us. Especially what he did for me. "One of the best comedic characters of all time and hopefully now he can rest in peace."