Travis Barker praises Kourtney Kardashian's 'power of love' for getting him back on planes
Travis Barker credits the "power of love" for getting him back on a plane after he was involved in a crash in 2008.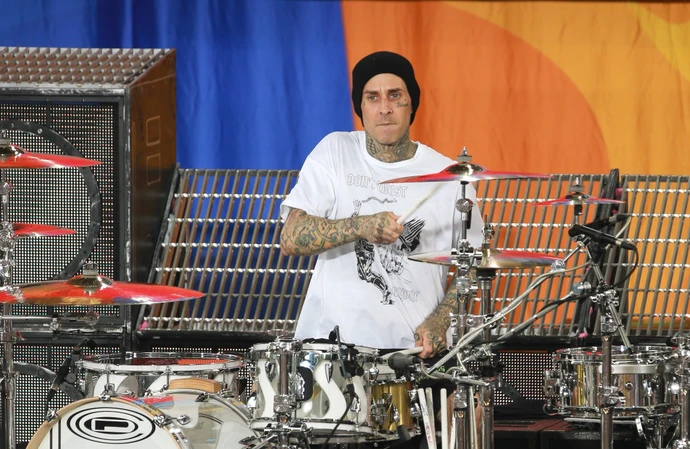 Travis Barker credits the "power of love" for getting him back on a plane.
The Blink-182 drummer refused to fly again after being involved in a crash in 2008 which killed four people but in August 2021, he flew to Cabo San Lucas with now-wife Kourtney Kardashian and he has praised the Poosh founder for "healing" himself and his family.
He told the Los Angeles Times newspaper: "I think the power of love really helped me.
"Kourt made it so I fly, my kids fly now. She healed us."
But while the 47-year-old rocker - who has Landon, 19, and 17-year-old Landon with ex-wife Shanna Moakler, is stepdad to her daughter Atiana, 24, and is expecting his first child with Kourtney - found his first flights easy, he was horrified when he took to the skies for the third time and his private jet began losing cabin pressure.
He recalled pleading: "You've gotta be kidding me. God, please. Please."
He added: "I had someone tell the pilot, 'No cowboy s***. Just land this f****** plane, please. Don't try to be a hero.' But I have no control over it. I don't know if I'll ever feel comfortable."
And Travis is still unsure whether flying is "worth" the stress it brings him.
He said: "It takes a little piece of my life every time I fly. The amount of stress and anxiety it causes is just unbearable. It brings up all this old trauma, and sometimes I'm like, 'Is this worth it?'
"But I don't like anything having a hold on me, either — I don't like being afraid, and I don't like having things from my past control my future."
While the 'All the Small Things' hitmaker thinks Kourtney is "really talented" at vacations, Travis admitted he struggles with the concept of switching off.
Discussing flying for pleasure, he said: "Vacations are more work than vacation for me, because I can't stand still.
"My wife is good at vacations — she's really talented. I'm good for about three days, and then I'm like, 'I need to do something.' She's like, 'OK, he's gonna start running obsessively, or practicing.'"