Friends and former co-stars pay tribute to Matthew Perry
A number of Matthew Perry's former co-stars and friends have paid tribute to the actor following his death at the age of 54.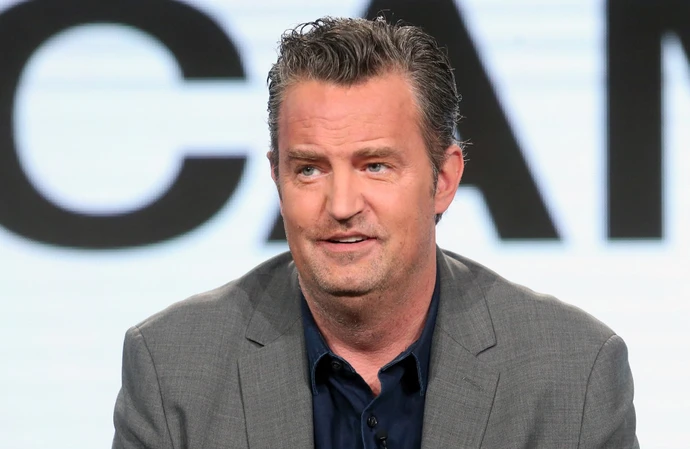 Maggie Wheeler, Rumer Willis and Mira Sorvino are among the stars to have paid tribute to the late Matthew Perry.
The former 'Friends' actor passed away at home on Saturday (28.10.23) in an apparent drowning aged 54 and his friends and former co-stars are mourning the "comedic genius".
Maggie, who famously played Janice Hosenstein, the on/off girlfriend of Matthew's character Chandler Bing in 'Friends', shared a photo of them together on Instagram and wrote: "What a loss. The world will miss you Mathew Perry.
"The joy you brought to so many in your too short lifetime will live on. I feel so very blessed by every creative moment we shared."
Fellow 'Friends' star Morgan Fairchild, who played Chandler's mother, also spoke of her "heartbreak" at the news.
She posted on X: "I'm heartbroken about the untimely death of my 'son', Matthew Perry. The loss of such a brilliant young actor is a shock. I'm sending love + condolences to his friends + family, especially his dad, John Bennett Perry, who I worked with on Flamingo Road + Falcon Crest. #RIPMatthew (sic)"
Warner Bros., the production company behind 'Friends' have released a statement on the tragedy.
They said: "We are devastated by the passing of our dear friend Matthew Perry. Matthew was an incredibly gifted actor and an indelible part of the Warner Bros. Television Group family.
"The impact of his comedic genius was felt around the world, and his legacy will live on in the hearts of so many. This is a heartbreaking day, and we send our love to his family, his loved ones, and all of his devoted fans."
Rumer recalled how kind Matthew was to her when she visited her dad Bruce Willis on the set of their movie 'The Whole Nine Yards' with her sisters Scout and Tallulah.
She wrote on her Instagram Story: "When I was a kid and I was on Set while he and my dad were doing whole nine and whole 10 yards he was so kind and funny and sweet with my sisters and me and I think his physical Comedy and that movie still makes me laugh so much, I know he had many challenges in his life and brought a lot of joy to people with his comedy I hope he can rest peacefully."
Both Mira - who starred with Matthew in 'Parallel Lives' - and Olivia Munn reflected on the actor's past struggles in their tributes.
Mira posted on X: "Oh no!!! Matthew Perry!! You sweet, troubled soul!! May you find peace and happiness in Heaven, making everyone laugh with your singular wit!!! [broken heart emojis] (sic)"
Olivia shared her tribute on her Instagram Story and wrote: "He struggled with so much addiction and was brave enough to be open and honest about it. I'm so sorry to his family and friends who are getting this news today. Nothing short of heartbreaking. Rest in love, Matthew Perry (sic)"
Meanwhile, Nancy Sinatra urged fans to pay tribute by reading the actor's biography, 'Friends, Lovers, and the Big Terrible Thing: A Memoir'.
She wrote: "Happy trails to you, Matt. Thanks for being you. Wishing you a peaceful journey home through the stars.If you loved Matthew Perry as I did read his book. You will learn a lot about him."
Matthew's 'Studio 60 on the Sunset Strip' co-star and director Timothy Busfield will miss his friend "desperately".
He told People in a statement: "Matty Perry was a gem. I had the great, good fortune to act with and also direct him on Studio 60 on the Sunset Strip.
"He was a good, good man and a sweet, funny soul who will be missed, desperately. Not only by his millions of devoted fans, but by those co-workers and friends who he made crumble to the floor with his fast and searing wit.
"He told me that he once spent an entire evening entertaining a famous director. Taking him to one club after another, thinking to himself, 'He really likes me, maybe he'll hire me.' It wasn't until the following morning, after a great night, that he discovered it wasn't the famous director at all. He was just some guy. He told that story on himself. That's what kind of man he was.
"Happy Trails, brother. I'll miss you."