Britney Spears poses nude on Instagram
Britney Spears has posed completely nude in her latest controversial Instagram post.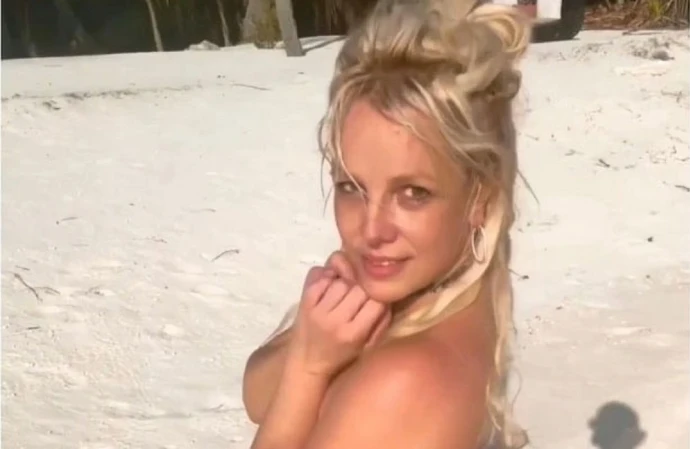 Britney Spears has posed fully nude on Instagram.
The 41-year-old pop star shared a raunchy photo on her account on Thursday (26.10.23), in which she is standing on a beach in her birthday suit, with her bare butt on display as she looks over her shoulder at the camera, holding her arms up over her chest.
She didn't caption the post and has disabled comments, but it has already amassed over 894,000 likes.
The photo was followed hours later by another post, this time featuring the 'Gimme More' singer dancing provocatively at home in a cropped top, hot pants and white boots, with a Christmas tree visible in the background.
She cryptically captioned the post: "Don't you just love those people who put one hand up for anxiety !!! Heard a bird bird bird … hand up my a** !!! Sorry I had to !!!(sic)"
And Britney's third post of the day featured a black and white photograph of the late Audrey Hepburn, posing with one hand on her eye and a twig acting as a moustache.
She captioned the image: "When you hear "we got it" !!! She knows WUUUZZZ UUPPPP !!! Don't think they got it YET !!!(sic)"
Earlier this week, the 'Sometimes' hitmaker celebrated her new memoir 'The Woman in Me' making history after becoming the world's fastest-selling celebrity life story following its release on Tuesday (24.10.23).
She thanked her "supportive" fans in an Instagram post on Tuesday that said: "It's happening!!! My book is the highest selling celebrity memoir in history and it's only day 1!!!
"Thank you to the fans who have been so supportive!!! Love you all!!! #TheWomanInMe @gallerybooks @simonandschuster."
The book was top of Amazon's Best Sellers and Barnes and Noble's Best Sellers list just over 24 hours since its official release.