Suzanne Somers' cause of death revealed
Suzanne Somers died after her breast cancer spread through her body to her brain, with underlying causes cited as hypertension and hydrocephalus.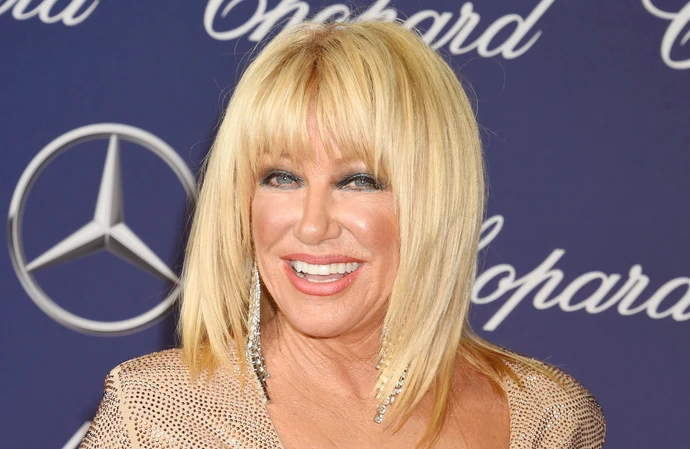 Suzanne Somers died after her breast cancer spread through her body.
The 'Three's Company' actress passed away on 15 October and her death certificate, which was obtained by The Blast, has revealed a string of underlying conditions that also contributed to her passing.
The document cited "breast cancer with metastasis to the brain" as her immediate cause of death, with a biopsy confirming the discovery, and hypertension, the term for high blood pressure, and hydrocephalus - a build up of fluid on the brain - were listed as additional underlying conditions.
The death certificate indicated Suzanne had suffered from hydrocephalus for over a year.
The document also confirmed the 'Step by Step' star was buried at Desert Memorial Park in Cathedral City just three days after she passed away.
Following the news of Suzanne's death, her emotional widower Alan Hamel, 87, posted a heartfelt tribute to her on his Instagram account.
Alan wrote alongside a series of photographs of him with Suzanne: "LOVE … THERE IS NO VERSION OF THE WORD LOVE THAT IS APPLICABLE TO SUZANNE. THE CLOSEST VERSION IN WORDS ISN'T EVEN CLOSE.
"IT'S NOT EVEN A FRACTION OF A FRACTION OF A FRACTION.
"UNCONDITIONAL LOVE DOES NOT DO IT. I'LL TAKE A BULLET FOR YOU DOESN'T DO IT.
"55 YEARS TOGETHER, 46 MARRIED AND NOT EVEN ONE HOUR APART FOR 42 OF THOSE YEARS. EVEN THAT DOESN'T DO IT.
"EVEN GOING TO BED AT 6 O'CLOCK AND HOLDING HANDS WHILE WE SLEEP DOESN'T DO IT.
"STARING AT YOUR BEAUTIFUL FACE WHILE YOU SLEEP DOESN'T DO IT...
"WE ARE ONE. I AM IN LOVE WITH YOU, MY BEAUTIFUL SUZANNE, FOR ALL OF ETERNITY.(sic)"
Suzanne is also survived by her son Bruce Jr, stepchildren Stephen and Leslie, as well as six grandchildren
The 'She's the Sheriff' actress was diagnosed with stage 2 breast cancer back in 2000 and announced in July this year that the disease had returned.
She told 'Entertainment Tonight' at the time: "I have been living with cancer since my twenties. And every time that little f*** pops up, I continue to bat it back. I do my best not to let this insidious disease control me.
"It's a recurrence of my breast cancer. Like any cancer patient, when you get that's dreaded, 'It's back', you get a pit in your stomach. Then I put on my battle gear and go to war. This is familiar battleground for me and I'm very tough."