Julia Fox thinks Kim Kardashian has copied her show-stopping outfits: 'They're a little similar to mine!'
After using her memoir to say the reality star had a role to play in her break-up with Kanye West, actress Julia Fox has admitted she thinks Kim Kardashian has been copying some of her headline-grabbing looks.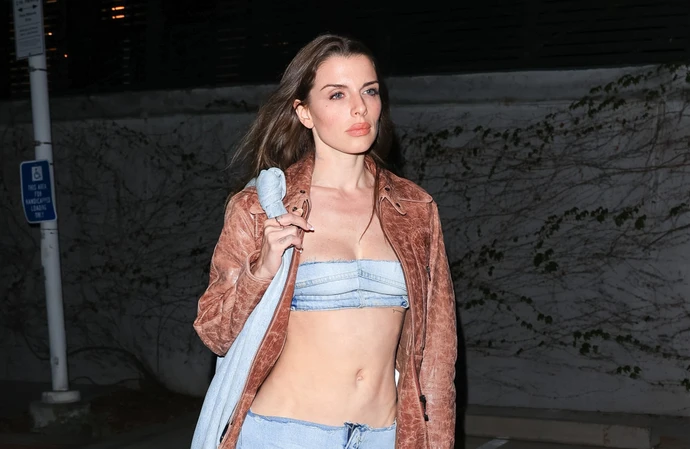 Julia Fox thinks Kim Kardashian has copied her headline-grabbing looks.
The 'Uncut Gems' actress and model, 33, also stressed she "really loves" the reality TV star, 43, even though she said she felt like she was used as a "puppet" during Kim's divorce from Kanye West, 46, who Julia briefly dated after the pair split.
Julia took a lie detector test for a new Vanity Fair video in which she tackled rumours Kim had taken inspiration from her outfits.
She said in the clip when handed a photo of the mum-of-four: "I actually really love her. I grew up watching 'Keeping Up With the Kardashians' and I actually liked it before they were even cool.
"And when people would bash her I would always go to bat for her."
The model was then asked if she thought Kim had ever been "inspired" by her style, with Julia admitting: "I would say that there have been some looks that are a little similar to mine."
She then added: "But I feel like, you know, it's just what's trending. I don't know if I'm on her mood board or anything like that."
In 2021, Julia was seen wearing the same sheer Jean Paul Gaultier illusion dress seen on Kim at the 2018 E! People's Choice Awards.
The two have also worn matching designs by Alexander Wang, Versace and Balenciaga.
Julia also mentioned Kim in her new memoir 'Down the Drain' – saying she
allegedly played a part in her break-up with Kanye.
The model, who has son Valentino, with her private pilot ex-husband Peter Artemiev and was with Kanye at the start of 2022, says in her book Kim came up during her final phone call with the rapper.
She says in her book: "He tells me he had a good conversation with his soon-to-be-ex-wife and discovered a lot of information about me."
Kanye then apparently told Julia he "didn't know (she was a drug addict" and felt like she had "duped him".
Julia, who also describes her heroin addiction in her autobiography, said she told him: "I told you! Maybe if you listened more. And not to mention, so were you!
"I refuse to let him hear me crying, so I hang up and tell my publicist to inform the press that we are over."
Earlier this month, Julia told the Los Angeles Times she believes she was used as a "puppet" during Kanye and Kim's divorce.
She said: "I thought ultimately I'd be helping a precarious situation… get him off Kim's case.
"But I very quickly learned that I was being weaponized."
Kanye has been co-parenting the four children he has with Kim – North, 10, Saint, 7, Chicago, five, and four-year-old Psalm – while taking long holidays with his new wife Bianca Censori, 28.