Meghan, Duchess of Sussex and Prince Harry mocked on 'Family Guy' over Netflix fortune
In a scene that sees their butler deliver them a fortune for "no-one knows what", Meghan, Duchess of Sussex and her husband Prince Harry were mocked on 'Family Guy' for earning nearly £100 million from their Netflix content deal.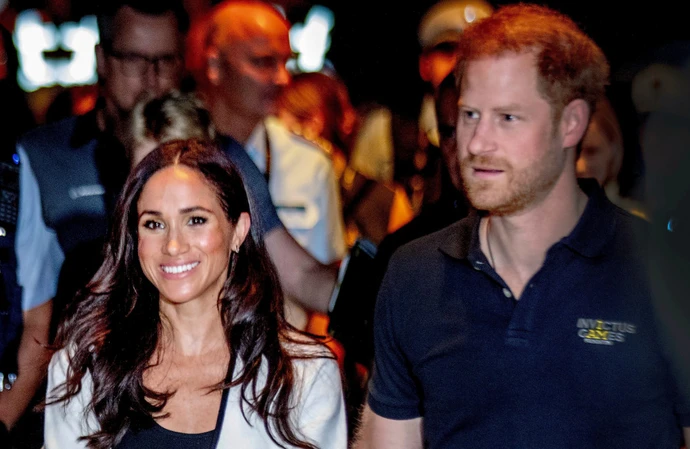 Meghan, Duchess of Sussex and her husband Prince Harry have been mocked on 'Family Guy'.
The former 'Suits' actress, 42, and the 39-year-old royal, who have son Archie, four, and two-year-old daughter Lilibet, are taunted in the comedy cartoon for making millions of pounds from Netflix for "no-one knows what".
An episode featuring the pair was shown on Sunday (22.10.23), with the teasing of the couple since going viral,
It sees Peter Griffin compare himself to the Sussexes, who have an £81 million contract with Netflix.
He announces he is going to "go it alone" like Meghan and Harry, who infamously quit the UK for America in 2020.
The scene then cuts to the couple lounging by the pool in California as a butler hands them money – and tells Harry: "Sir, your millions from Netflix for... no-one knows what."
Harry's toon version responds: "Put it with the rest of them".
Meghan's phone then goes and she tells Harry: "Babe, time to do our daily $250,000 sponsored Instagram post for Del Taco."
Harry replies: "I shouldn't have left the made-up nonsense."
Meghan and Harry's first six-part series on Netflix, 'Harry and Meghan', made headlines when it was released in 2022 and hit the top of the Netflix Top 10 charts.
But Harry's first solo Netflix show, 'Heart of Invictus', failed to make the streamer's top ten chart on its release day.
He and Meghan were also famously mocked by 'South Park' in February over their fight for "privacy".
It showed the pair moving to the fictional town in a bid to dodge the spotlight – with Harry releasing a book titled 'Waaagh' and the pair going on a global "privacy tour" to promote their desire to stay out of the spotlight.