Kanye West is not running for president in 2024
Kanye West will not be competing with President Joe Biden and Donald Trump in the race for The White House.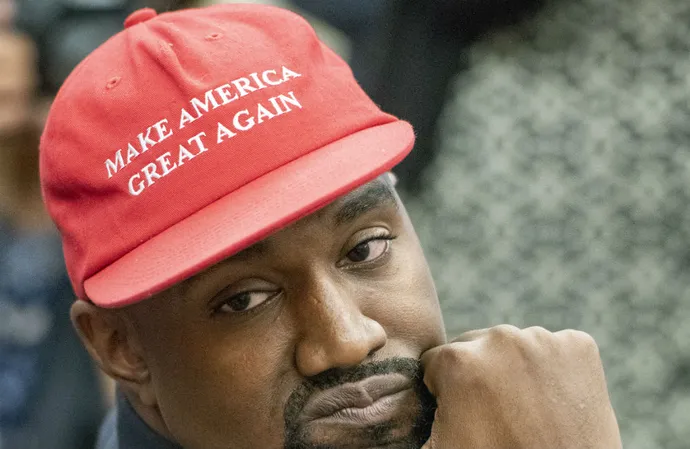 Kanye West is not running for president this year.
After failing in his bid to take over The White House in 2020, the controversial rapper has decided not to campaign this year.
His attorney Bruce Marks told Rolling Stone: "He's not a candidate for office in 2024."
Kanye - who now goes by just Ye - ruling himself out from the running comes shortly after a filing by the Federal Election Commission by his 2020 political committee revealed they had no funds to use for primary expenditures in all 50 states and US territories from January to September or the most recent financial report.
And there is less than $25,000 available in cash.
In May, Ye's campaign treasurer resigned amid fraud allegations.
Patrick Krason informed the Federal Election Commission of his decision in a letter, which read: "I have notified the campaign of my resignation and they have been made aware of the requirement to name a new treasurer within 10 days.
"I have also made them aware that they cannot raise or spend campaign funds until a new treasurer has been named.
"Please do not hesitate to reach out with any questions or concerns."
As reported by Politico, in a separate letter, he alleged that campaign adviser Milo Yiannopoulos could have broken federal campaign finance law.
He claimed that Yiannopoulos "submitted falsified invoices and for expenditures that would be deemed unlawful" last year.
The letter reportedly refers to an expense for a digital asset for which the personality is accused of seeking reimbursement from both Kanye's campaign and that of Georgia Republican Marjorie Taylor Greene.
Yiannopoulos denied the allegations, and told Politico that he wouldn't "give any credence [to] ridiculous, ridiculous and easily disproven claims."
Ye appeared to share a campaign video on Twitter in November 2022, which he later deleted.
He later shared other videos, including one with a 'Ye 24' logo in reference to running for president.
The 'Stronger' rapper previously earned around 60,000 votes across 12 states after launching his bid for president in 2020.
Last year, the 'Jesus Walks' rapper lost his deal with Adidas, was dropped by agents CAA and record label Def Jam, and had the likes of Balenciaga and Vogue magazine distance themselves from him due to a string of anti-Semitic comments he made, including praising the "good things" about Adolf Hitler and declaring he wanted to go "death con 3 on JEWISH PEOPLE".